Private
PX Member
Minuteman
**SOLD** I am looking to sell one of my backup AN/PVS-27 MUNS (Magnum Universal Night Sight) that is in outstanding condition. This one came "unissued" with the LaRue adjustment wrench zip tied to the rear lever lock so it could not even be used w/o removing the zip tie. The lenses and image are in excellent condition. It comes as a complete kit with objective lens cover, rear lens cap, ARD (anti-reflection device), lens pen, quick reference guide, manual, light shroud, and padded soft case. The image is crystal clear thanks to the ITT gen 3 pinnacle autogated image intensifier tube and huge catadioptric objective lens system. At the VERY bottom right of this unit's image is a tiny black strip that is only visible if you tilt the unit just right. It is NOT visible in normal use looking through the sight w/ magnification and in NO WAY interferes with function but I am all for full disclosure (see pics below). So far, the PVS-27 is the ONLY clip-on device that I have used that has as crisp of a passive image as the PVS-9 KN203 SIMRAD. The PVS-30s that I have owned and used were nice but their passive performance was noticeably lacking compared to the PVS-9. The upside to a true collimated clip-on like the PVS-27 or PVS-30 is that you don't have to zero the sight to an individual gun, it can be swapped between platforms quickly and easily with little or no zero change. I've now used the PVS-27 with 2.5-10, 3-15, 1-8, and even micro red dot sights with a magnifier, all worked incredible. They even seem to tolerate canted scope bases as well as the PVS-30 does, no problem with 20 MOA or even 30 MOA mounts. I removed the zip tie so I could test this unit and it works perfectly (tested on 5.56 AR and 22 LR bolt gun). The pic of the right side of the unit shows the battery compartment slightly open, it closes 100% perfectly I just had it open as I was about to load it and turn it on.
Price is $3800 shipped and insured via UPS ground anywhere in the USA w/ signature requirement. At buyer's preference, I can send via alternate means or expedited at additional expense but will still need signature. Payment via certified funds (USPS money orders), or PayPal (f/f or you cover fees). Payment must fully clear before shipping. NO TRADES. The buyer will have a 72 hour inspection period during which the package may be returned in the same condition for a full refund minus what I paid to ship it. There is no warranty, expressed or implied.
I cannot and will not export this device or sell it to an individual that I have suspicion may attempt to do so. This is an ITAR restricted item and all of those rules apply.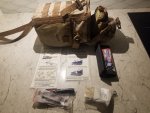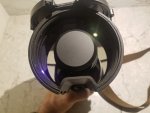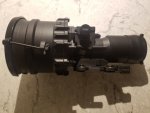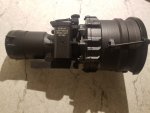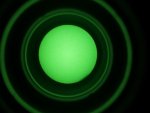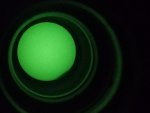 Last edited: