I thought I give a review of both my impact action and the 25 CM cartridge.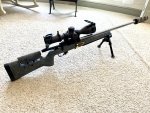 The rifle is an impact action (mid 100's serial number) with around 6000 rounds on it. 4000 6.5 CM, 1800 25 CM.
Stock is a Bell and Carlson tactical medalist M5 inlet that is bedded, flush cup, hogged barrel channel and a 12" universal 419 arca lock rail. Trigger tech special special, RRS SC-LR atlas bipod, and a Hawkins DBM. the barrel is a Krieger 1:7 26" M24, with a silencer tech X300 can.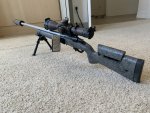 the action is awesome. Smooth as butter, the only problem I have had with it is double feeds when I first started shooting it, because I didn't feel it strip the round. The action is lightning fast, and has never failed to feed or eject, even in the nasty New Mexico dust. I run the action almost 100% dry, and it still feels like silk. the trigger tech special is set at 1 pound and is really awesome. It is the 2nd one I have had. The first one started to bind/creep about 5000 rounds. Trigger tech stepped up and replaced it while they evaluated it. They didn't find anything wrong, so maybe it was just dirt, grime, interface issues? But the new one is going good. Consistent 14-18 oz break.
the Hawkins DBM has been great. If I had one complaint it would be the mag release is a -little- stiff.
The stock is well worth the money, to fit the Krieger heavy varmint #17 we had to remove quite a bit from the barrel channel. That resulted in a little flex in the fore end. Since adding the 419 rail it feels much stiffer. The stock has been skim bedded by Butch's. It also has flush cups on the left side. The silencer tech can has been awesome, and the support from Barry has been amazing. It went in for cleaning at 8000 rounds. It isn't the quietest but is fool proff.
I have only used Krieger barrels with this action, and they have al been excellent. The current one has 1800 rounds on it. It is shooting .6 MOA. Has only been cleaned 2 times both after being i the rain (600 and 1500) neither cleaning produced any appreciable copper.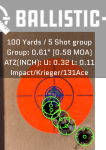 This was today at 1800 rounds. SD 8, ES 18, average speed 2950. I've added .2 grains to make up the speed loss. The gun seems to shoot better at this speed. The flyer might have been me, or it might have been the gun. .34 MOA without the flyer.
Made a shot this weekend at 1950 yards with a drop of 19.8 mil. The 25 Cm seems to hold the exact same dope as my buddy's 300 PRC to 1400 yards. Obviously less energy though. It has been very easy to load for and I am using necked down 10x fired Lapua brass. Reply if you have any specie questions about any of the components.
Last edited: