Sergeant of the Hide
PX Member
Minuteman
1) Redding type S full length resizing dies with .288, .289, .290 bushings. New, never loaded a single round with these items.
All of it for $90 shipped- SOLD
2) Forster Micro seating die. Has hornady lock n load insert on it. I can remove it if desired. Never used. $75 shipped-SOLD
3) 150 pieces of Starline 6.5cm sp brass.
Never loaded. $75 shipped
4) 200 pieces of Hornady 140gr ELD 6.5cm
$60 shipped
Paypal, cashapp. If paypal g&s please add 4% for fees. Continental U.S. only.
First to reply 'ill take it' here in the thread gets it followed by a pm to me.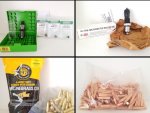 Last edited: