Full Member
PX Member
Minuteman
22" long 6.5x47 Lapua PVA chambered Hawk Hill barrel with 1:8 twist. Heavy palma contour. It's got right at 1,300 rounds down it. I believe the freebore as chambered was .140" or something close to that. Killed 2 deer this past year at 740 and 630 with Berger 135 classics and H4350 going 2800fps.
Dies are--Redding FL bushing with NO bushings included and RCBS seating die.
Roughly 110pcs of brass. Not the best as some are starting to get loose pockets but all usable.
Also have a new modified case gauge for it.
350 shipped for the while package.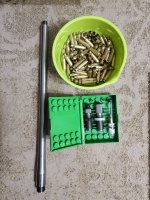 Last edited: