Sergeant
Full Member
Minuteman
I was planning to order a new VuDoo last fall when I came across another option and since I like to be different, I decided to take a chance on a new gun maker, custom rifle builder Don Fraley of Russell, KY. His firm is AWT or Advanced Weapons Technology. He is building a new Remington 700 pattern custom 22 rimfire rifle by the name of 22Tango. First, I am not commercially associated with Don or AWT in any way other than I am one of his customers. That said, I have known Don for more than 30yrs and have nothing but respect for him as a gunsmith and marksman. He has been building custom centerfire and rimfire rifles and handguns for most of that time. His successful line of long range centerfire precision rifles is legendary in the ranks of special ops, law enforcement and varmint hunters. Some background straight off his website at
www.awtllc.net
"Don is former lead sniper for the prestigious Kentucky State Police SRT team and winner of the coveted Carlos Hathcock sniper school's "Top Gun" award.
His military experience includes training as a combat medic, light and heavy weapons, and airborne operations with the 19th Special Forces Group, and combat engineer, company medic, and chemical, nuclear, and biological warfare specialist with the 478th Combat Engineer battalion.
Don builds his own line of 1911 handguns and precision rifles and a line of 1911's for another firearm manufacturer under their own company's name. Don continues to serve numerous police agencies, tactical teams, and drug interdiction teams with his custom work and training expertise. Through much research and development over the past 25 years, Advanced Weapons Technology, LLC came into being to offer their state-of-the art handguns, rifles, firearms training programs, and unmatched lubricants to the public.
Only the highest quality materials and components go into his products. Advanced Weapons Technology, LLC is built on Reputation, Reliability, and Relationships. Don often tells others regarding his products stating, "you can pay more, you just can't buy better".
Last fall, he announced his plans to make a precision rimfire rifle on the proven 700 Remington pattern similar to the Turbo custom, the 2500x, VuDoo, RimX and a few others which all have their DNA rooted in the Remington 700 short action rimfire 40X target rifle. Don, is making a repeater and a single shot BR model and both are known as the 22Tango. I recently took possession of serial number 00002. It is fitted into an HS Precision stock in desert tan and sports a HB profile Wilson Combat Match Grade bbl cut to 22" in length and threaded at the muzzle for a can when wanted. It has a Timney Elite Trigger and we cerakoted it a bronze color to blend in with the stock. I mounted an Arken SH4 Gen2 6-24x scope on it that I had ordered just for this build and raced off to the range to zero and begin testing ammo. To say that I am pleased and impressed is an understatement. The quality of the build is exemplary and the Wilson bbl seems to have some great promise as a rimfire barrel. I only have had the one test session and it was hot as hell, windy and not ideal conditions at all. I tested a few lots of Lapua CX, Midas+ and Biathlon Extreme in the rifle, as well as SK Red, SK Yellow and one lot of Eley Blk that I had with me. It shot all of them well and some slightly better than others. Several times, I could place four into one single bullet hole but would get a puff of wind or a less than perfect round of ammo and would open up the group. At the moment, it seems to prefer the SK Yellow which seems messed up to me as that is my practice ammo used for warming up a freshly cleaned rifle before matches before transitioning to Lapua for a match. The SK while good ammo is not top flight match ammo and in most of my rifles is not normally the best shooter. This tells me that with the right lot of Lapua, RWS or Eley, it has the potential to shoot even better.
The wind was only getting worse, and I was getting hot and tired and sweat was dripping into my eyes so, I quit that range session. Normally, I would do testing on a cool early morning before the wind picks up in the morning. I hope to get to do that soon. In the mean time, here is a pic of the rifle and one of the better groups which is SK Yellow, 10shots off of sand bags on a bench at 50y. It is not a OMG, that is amazing sort of group but was enough to show me that the rifle has potential to be a good one with the right ammo. So, two thumbs up to Don and AWT. To date I have only shot it for about one hour and maybe 100rds. I am looking forward to getting more time on this rifle.
Irish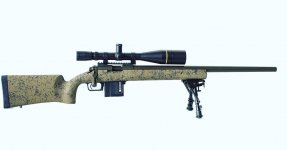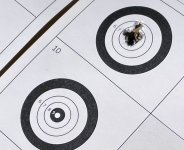 Last edited: