Supporter
Supporter
PX Member
Minuteman
Hey guys, I had to shell out a ton and buy a case of 5000 cci 450s on armslist to acquire the 2000 I needed. I'm selling 3- 1000 count boxes of cci 450s and also selling 4- 100 count boxes of fed 205s to try and recoup a bit.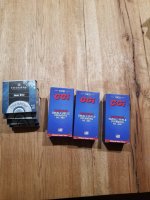 !
Local pickup only!

I'm in the metro Detroit area
Sorry guys but no shipping. I've had a ton of bad luck trying to ship hazmat stuff and I'm not going to deal with it.
Cci 450s - $200 per thousand
Fed 205s- $20 per hundred