NOTE: This explanation is long, but I included it because I wanted to give some background. Hopefully the background information explains where I'm coming from and what I'm trying to accomplish in the event that someone disagrees with my conclusion. No single system of determining divisions can solve every problem or ensure a totally level playing field especially when dealing with equipment as diverse as we have in this sport. Further, this is only part of a solution, we also need match directors who are committed to matches that provide a great experience for all shooters, and we need shooters who remember this is all supposed to be for fun and improvement.
If you don't want to read the background info then skip down to just above the table.
As this sport has grown and evolved and what once were largely field or hunting oriented precision rifles started to turn into dedicated gaming guns much has been said about how to fairly divide equipment into divisions that not only attempt to provide a relatively level playing field for competitors but also bring in new shooters. We must ensure that we have structures in place that welcome new shooters and provide them with both meaningful competition and the opportunity to engage in that meaningful competition without having to immediately overcome a giant financial barrier.
Attempts have been made to create divisions for new shooters where equipment is cost limited and/or allowed based on its availability to the market. These attempts have failed, in some cases essentially telling prospective shooters that they're going to need to spend thousands of dollars on a rifle alone, then thousands more on gear, or in other cases by allowing (and then disallowing) sponsored shooters to use rifles that aren't actually available to the general public. None of this is welcoming to new shooters, none of it provides them a positive experience, and none of this benefits the sport as a whole. A prospective new match shooter doesn't want to show up with $2000 worth of rifle and scope and immediately know that they're facing guys with $2500 "production" guns with $2500 scopes. Similarly, they don't want to show up for their first match and get absolutely wrecked by some sponsored shooter using a "factory" rifle that they can't even buy. Simply put, Production does nothing to encourage new shooters to join the sport or lower any cost barriers.
Another group of shooters who seem to feel left out at this time are guys who want to shoot for fun. I know it's impossible to dictate what's fun for one guy or the next, or to point to something and say it's objectively not-fun, but it's clear there's a widespread feeling here that what this sport has turned into in many cases is not fun. Initially I got into competitive long range shooting in 2010. Back then matches tended to be small and relatively local affairs for the most part (I'm aware of bigger affairs like Steel Safari and the SH Cup and all). The guys who showed up for these matches were, in some cases, using their hunting rifles because they wanted to practice field shooting skills. Other guys like myself had "match rifles" that were built on stocks better suited to precision shooting, with barrels a little longer and heavier than the other guys' hunting rifles, and with muzzle brakes and the exciting new optics that started hitting the market around that time. These rifles weren't quite as light or compact as hunting rifles, but we were in some cases walking miles each day at matches and shooting in field situations off tree stumps, old tires, handmade shooting sticks, etc… so the rifles needed to have some semblance of "field" utility. Nobody was hiking around with weights stuck all over their rifles. What everyone was doing was welcoming new shooters, joking around and giving each other a hard time, helping spot and make calls, and in general participating in a way where everyone involved was becoming a better shooter. Fast forward a few years and the PRS shows up, fast forward a few more years and these matches were a thing of the past. The mood of matches changed dramatically and as the gear race picked up speed and cliques formed and solidified I drifted away from competitive shooting. From reading lots of threads here I get the sense that I wasn't alone in how I felt or that I just stopped participating.
So now we have two groups of shooters who aren't being served by what the PRS has done to the match world. I don't know how much longer the PRS can keep extracting money from the base of shooters they have, but if they're not being welcoming to new shooters and they're losing guys like me who don't want to deal with the drama and attitude they brought to match shooting then the match world has a big opening for groups who can better serve the wider precision shooting community. In some instances other organizations have appeared to try to do what the PRS does, but do it better, and in other situations match directors have simply refused to associate with the PRS and run their own matches. Personally, I'd be happy to see most matches going back to being independent, local affairs. I don't need my scores kept on a website somewhere and I'm certainly not going to pay a bunch of money to line a few pockets for the privilege. I've often heard it called for on this site for matches just to go back to independent affairs, but one thing that doesn't solve is how to appeal to the wide spectrum of shooters we have now. A big part of that is how to accommodate the current PRS shooter with a totally match-focused rifle vs. the guy who wants to see what this sport is all about with his $1000 rifle. Or how about the guys like me who have no interest in building 27 pound rifles with 6 ounce triggers but still have great match rifles from before the gear race. How does any match, whether it's an independent match or a match put on by a governing body who wants to supplant the PRS accommodate these different shooters and provide each with a positive experience?
Gear has never been a totally even playing field, someone has always had the better scope, the bullet that drifts a little less, the barrel that shoots just a bit tighter, or the really dialed-in handloads. In the past much of that could be overlooked as the range of gear we saw at matches wasn't nearly as extreme as it would be today. A guy could show up to a match with a basic 20" .308 gun with a quality scope and while he wasn't likely to win he also didn't look out of place. Further, with the general mentality of the people who were shooting at that time and the lack of prize tables it really didn't matter that the new guy came in near the bottom of the pack. He wasn't totally blown out by absolutely tricked out match guns that cost 10 times what his rifle cost, and it's likely he still went home happy and as a better shooter than he was when he showed up. Now, I understand no rule set other than an absolute spec series can claim to have gear parity, and that's not my goal here nor do I get the sense that anyone really wants that. The goal here is to establish a system where a match, whether it's small and independent or part of some series, can provide a meaningful competitive experience to a group of shooters who have gear more diverse than we've ever seen before in this sport.
Before we get into the specifics, allow me just a little more time to outline some of the considerations taken into account going into this:
Divisions are not based on cost.
Divisions are not based on production availability.
Divisions are not based on any sort of "spec" gear, nobody is required to run anything specific at all.
There are no dead-end divisions. If a match only has 2 new guys it's not just them alone, they're still competing against similar gear.
This does not require any additional work by the Match Director. There is no adjusted scoring, no different targets, no differences in stage design or setup.
The criteria used for determining the competitor's division is simple, objective, and can be very easily checked. This leaves out some stuff that might be a good idea, but it also is much harder to game or abuse because it is very simple.
Lastly, this is of course a work in progress, any of this could be adjusted or changed to account for oversights or other concerns.
The actual proposal:
Divisions would be broken down as follows, and perhaps named if catchy names were suggested:
25 Points
30 Points
Unlimited
Here's how points are calculated: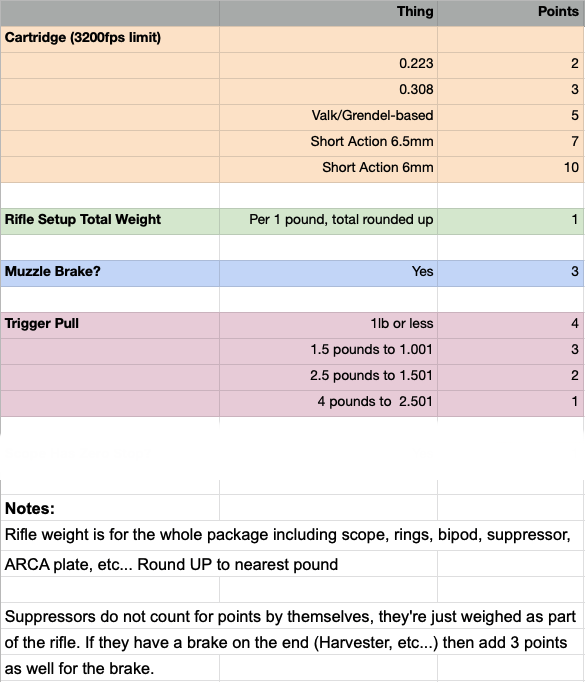 That's it, just pick the appropriate points for your rifle from each color category and add them up. The idea here is that these are the things that determine the "shootability" of a rifle package during a typical stage. A heavier rifle, a rifle with a brake, a rifle with a lighter trigger are easier to shoot with and spot your own shots. A rifle shooting a 6mm round vs. a 6.5mm also recoils less and is easier to spot. These factors are certainly not the only factors that go into how a rifle shoots, but they're very easy to check and leave the smallest amount of room for abuse. Obviously the cartridge list would have to be expanded as surely you'd have plenty of "well what about X?" questions.
Lastly, allow me to outline the idea behind the three divisions…
The 25 point division covers lots of "new" guys with 308 rifles or the cheap Savage or Mossberg entry level rifles, it's also well suited to experimenting with smaller cartridges and maybe even some lighter semi auto guns. Do you want to try running a long 308? How about a 6mm Grendel bolt gun with a long barrel and moderate overall weight? Lots of interesting stuff can fit into the 25 point category. A guy with a factory Ruger Precision Rifle could even make it into the 25 point division depending on the specific configuration of his setup.
The 30 point division is for "normal" match rifles, what we saw for years and years before the sport tried turning itself into benchrest in the field. Here a guy with a custom barreled RPR can shoot against a guy with a Surgeon or GAP, cartridge choice is open but balanced and other aspects of what make a rifle "shootable" ensure the rifles here are reasonably well matched.
Unlimited is for rifles where either by their specs (exceptionally long barrels, thick barrel contours, heavy scopes) or simply by intentionally adding weight for stability the rifle is outside of what would traditionally be considered a precision rifle for field use. If you want to bolt 5 pounds of weights onto your chassis and use a trigger that you barely have to touch this is the division for you.
This post is already long enough, hopefully this helps someone. Regardless of who is running matches the fact remains that the range of shooters and gear showing up today is vastly broader than even in the recent past. If we can have a small number of divisions that are simple to understand and enforce then we can provide any shooter with suitable gear a fun and meaningfully competitive experience.