You can run but you can't Hide bitch!
PX Member
Minuteman
Selling a like new TSO in .40 caliber. Has three magazines with matching base plates. Has the left side thumb rest as well installed. Less than 100 rounds through it, just bought a Fix so recouping some funds.
No trades, it's great to shoot so I'd rather keep it than trade for something else.
$1,350 shipped.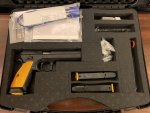 Last edited: