Smile and Dial
Supporter
Full Member
Minuteman
Supporter+
Update 12/29/2021 - I have updated the Google Document
Added a sheet to calculate your Speed Drop Factor for you. See this article for more info on the Speed Drop Factor
Finding your Speed Drop Factor
Update 5/13/2020 - I have updated the Google Document.
On the Density Altitude sheet the - Station pressure is now calculated for you once you enter the temperature and desire density altitude. This way you can simply fill the DA sheet in for what you want and input that into your ballistic calculator. You no longer need to calculate DAs. Give it the desired DA and temp and it will tell you the station pressure to put in your calculator.
I have added more sheets to the wrist coach. You can now print out Dope sheets for each of the columns on the DA sheet.
Shared Data Book Sheets
UPDATE 3/10/2020 - Here is a link to the google excel sheet that is the blank slate for these charts. If you can figure out how to run and print them, have fun. You can down load them to windows excel from here.
Shared Data Book Sheets
UPDATE - I posted
Fillable
charts as the attached PDFs. Now you should be able to type in your drop and wind data right into the PDF. Most PDF editors (adobe and the likes of) should be able to let you input your data.
____________________________________________________________________________
Shooters
@lowlight
I have put together a couple charts that can help us all make better dope books. For My data book I like to cut these out, laminate them back to back then hole puch the card and place it in my data book. This an 8.5x11 piece of paper that could be folded in half to have all of your numbers.
Dope Charts and Wind Rose
Here is my typical data book page for drop charts with the wind rose on the back. The first row of the wind columns I usually put my rifle MPH and fill the column for that.
See the attachement for the PDF of each of these.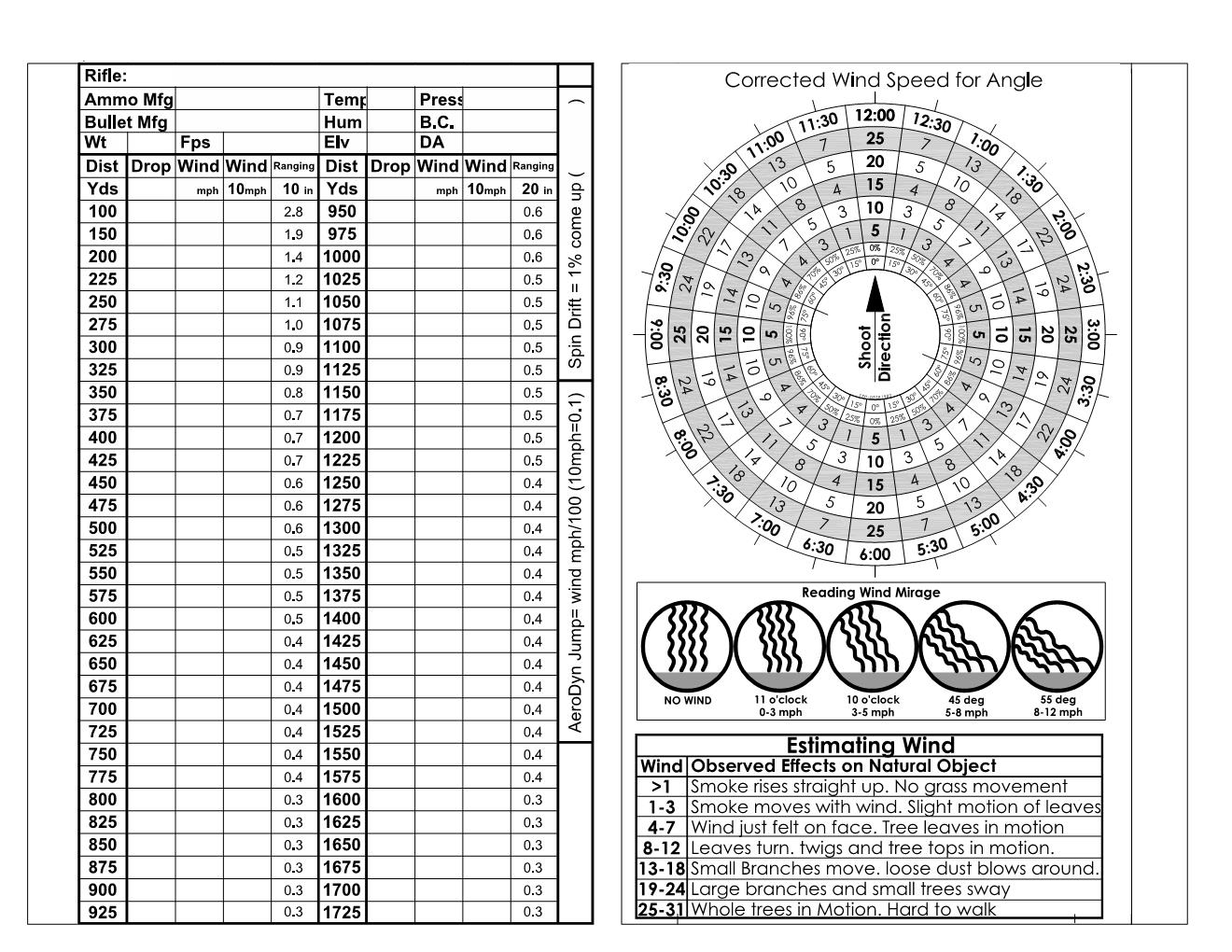 Here is an example of my Card filled out for 8000DA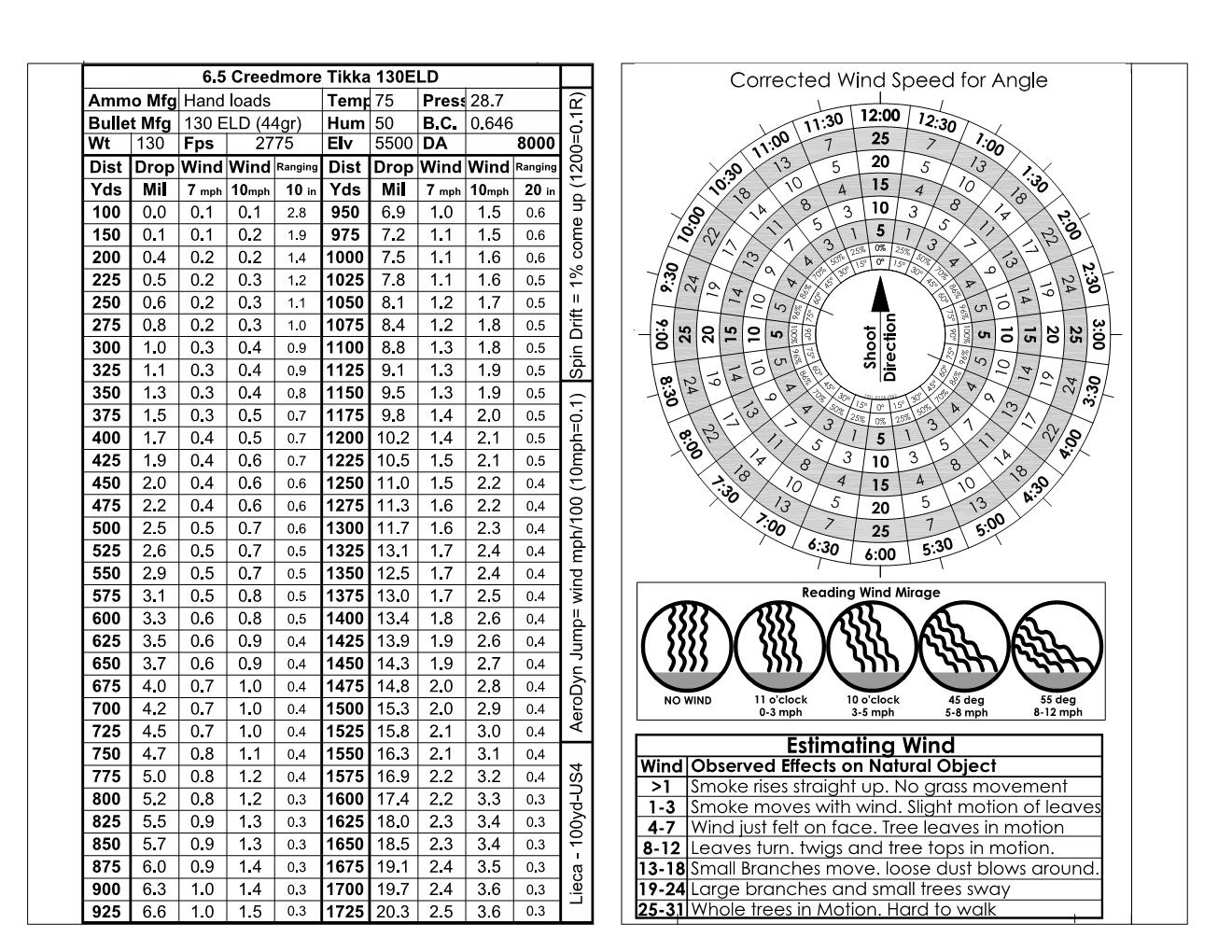 Density Altitude charts
How do you have a paper chart for Density Altitude (DA) changes in your dope? Do any of you have a DA sheet in your Data Book?
I have read and been told to have drop charts for every 2000DA change. My home range is usually around 2000DA. This means I need a drop chart for -2000ft, 0ft, 2000ft, 4000ft, 6000ft, 8000ft, 10,000ft. That's 7 pages in a dope book for
one
rifle. I don't really want to have that many pages for
one
rifle (yes, I want ONE data Book for all my rifles). With 3 rifles is 21 pages to sift through. So... below is the chart I made for changing DA. Now I have 2 pages, my Home range dope chart with the wind information on the back and a DA dope chart.
Things to Note
Data recorded - at the top of the chart is how I got the DA numbers. This way I can reference how temperature might change the DA as well as the station pressure. (note the comment in the margin about how temp change = DA change)
All of these are at 50% humidity. To keep this simple I had to eliminate a variable, humidity was it. While I think it will effect things more after 1000yds I don't think it has enough variance inside 1000 to worry about.
Wind - The wind row has 2 numbers in it. The 2 numbers are the wind speeds that are equivalent to the wind hold for 2000DA. Example - if I'm shooting at 6000DA, 800 yards - a 7mph hold is 0.9 mils (6mph from 2000DA) and a 12mph hold is 1.6mil (10mph hold for 2000DA) this allowed the chart to re-use 2 columns of information for each DA change and for me to know what my Rifle MPH is at each DA.
After doing this I think the chart will work out to 1000 or 1100 yards. After that a more refined DA chart may be warranted. At 1100 yards jumping 2000DA is a 0.4 mil jump, that's about 16" of change. For an accurate shot I recommend consulting your Ballistic program on the longer shots with changing DA, but these values will at least give you a starting point if you don't have any other information. of you'll need to pin down your true DA and guess between numbers if needed.
I presented this chart in 2 ways. 1st - straight data. 2nd is the plus or minus from the home range value. Doing the 2nd version can help us understand how much DA can really effect our dope. The 2nd if more for informational used and not necessarily something I would have in my data book.
Let me know what you think.
1st chart Raw DA values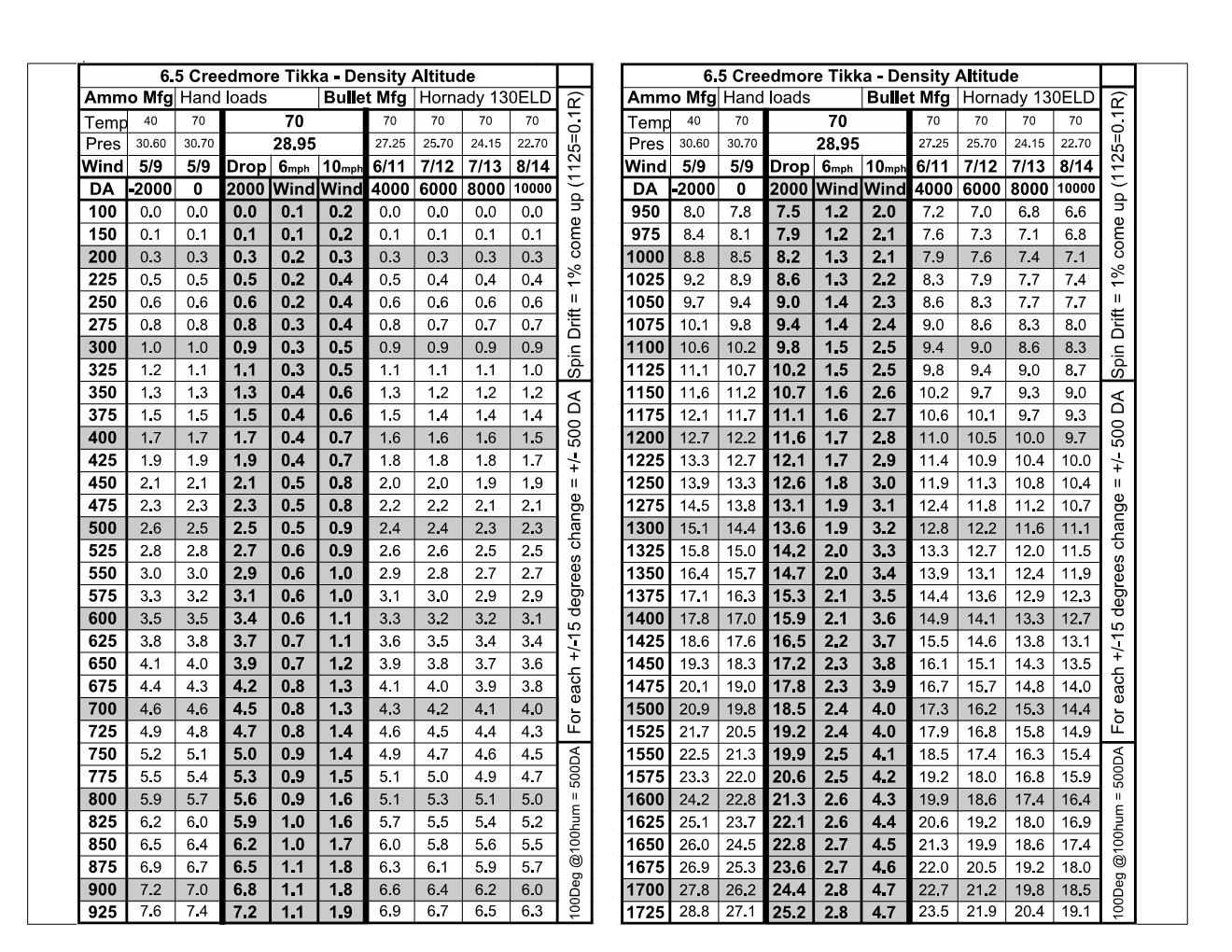 2nd chart - Difference in DA from my home range.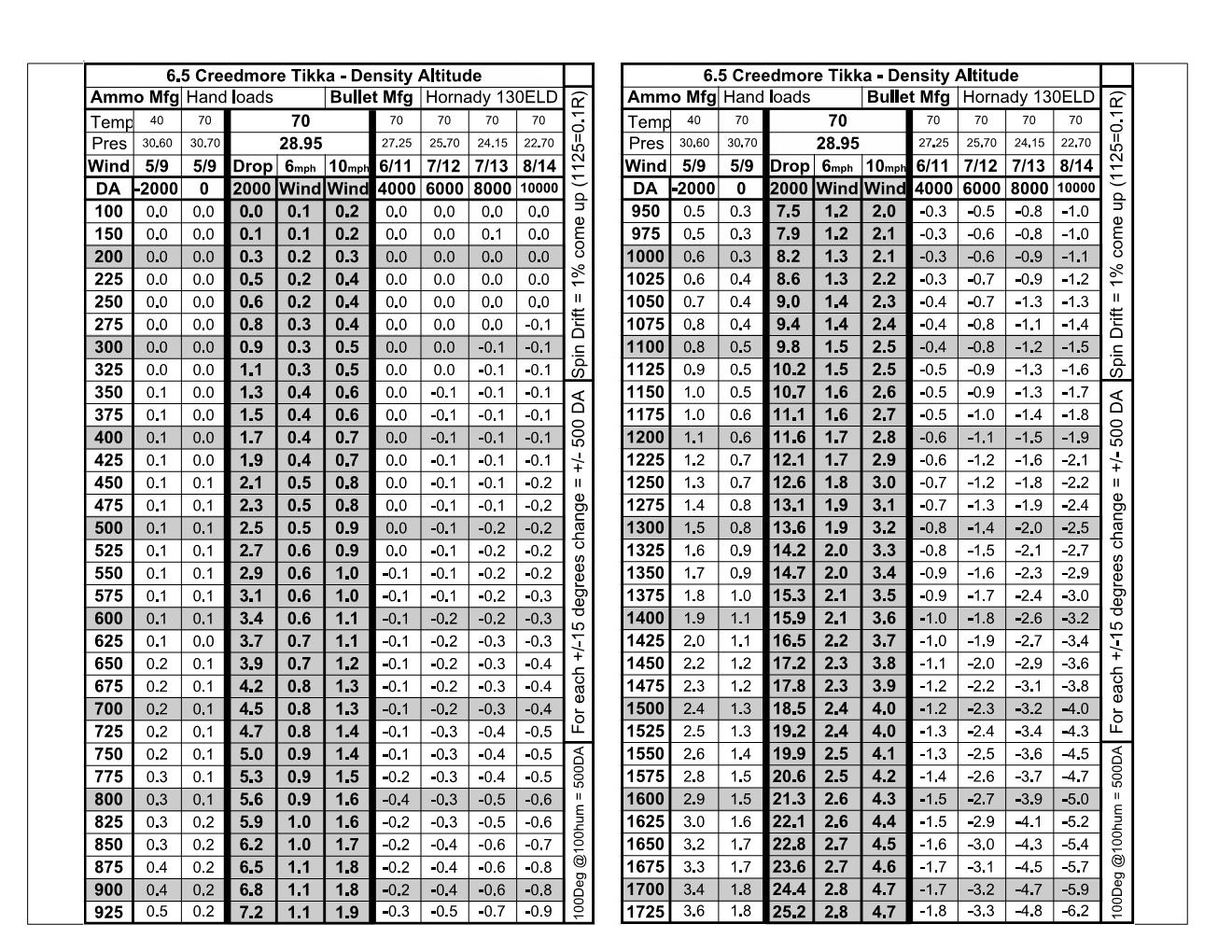 Moving Targets
Here are my charts to measure the mover speed and what to hold for speed at distance. The mover speed chart can be used for any mover/rifle. The lead chart is rifle specific and based on time of flight. IF things are moving faster than 5mph you'll have to do multiples of a number.
Mover Speed - Mil measuring and my Lead chart for my 6.5 creed. The lead is all based on time of flight.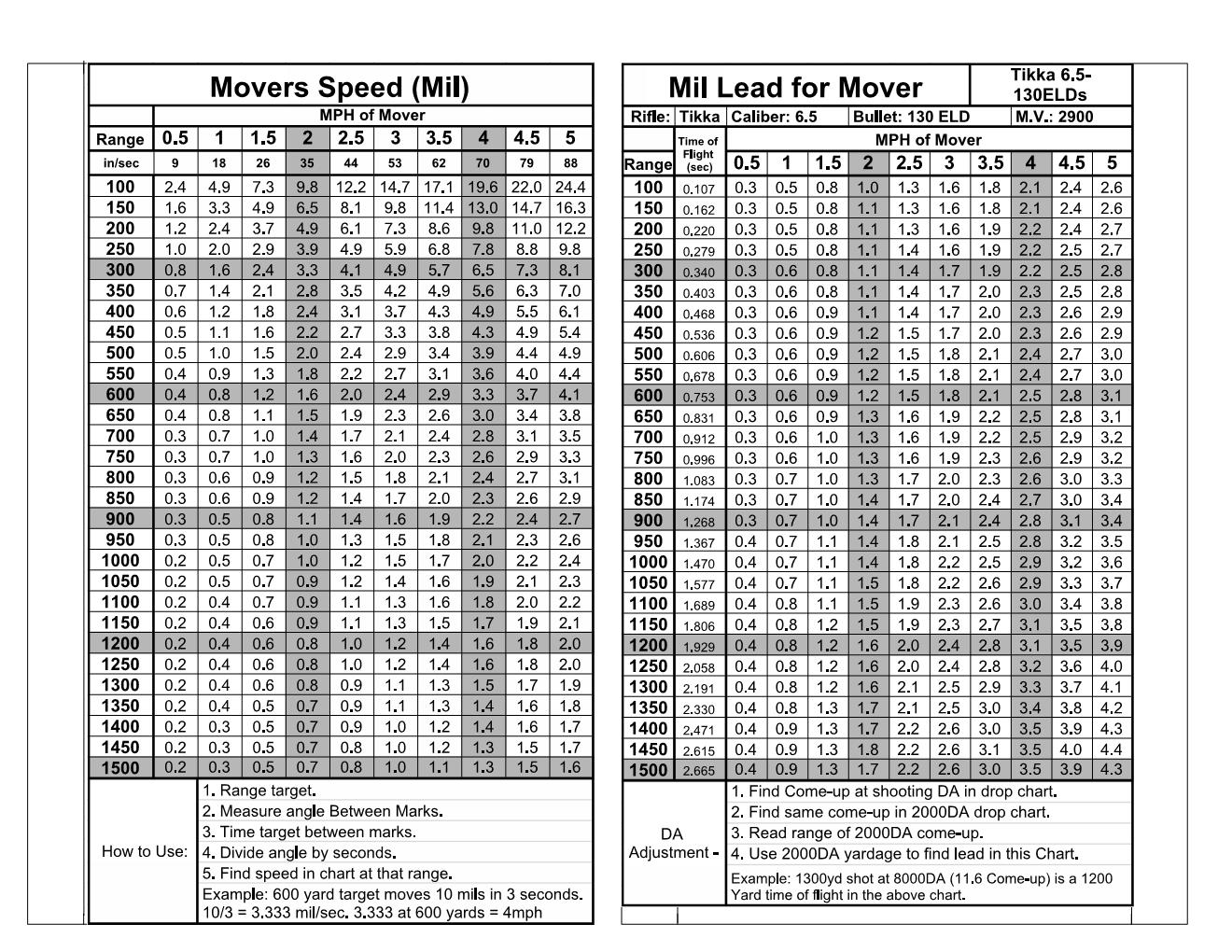 Mover speed - MOA measuring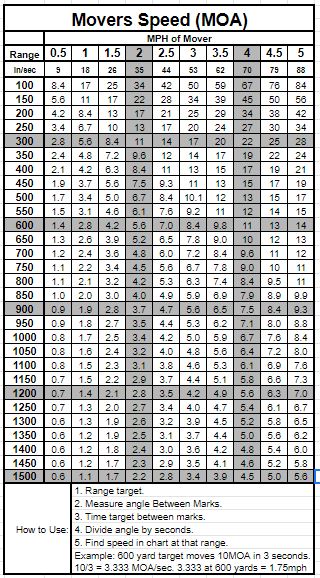 Weaponized Math (Try Dope) and Mills to MOA Conversion
Lastly - here is the weaponized math with the MOA-Mil conversion
This sheet is Mils Based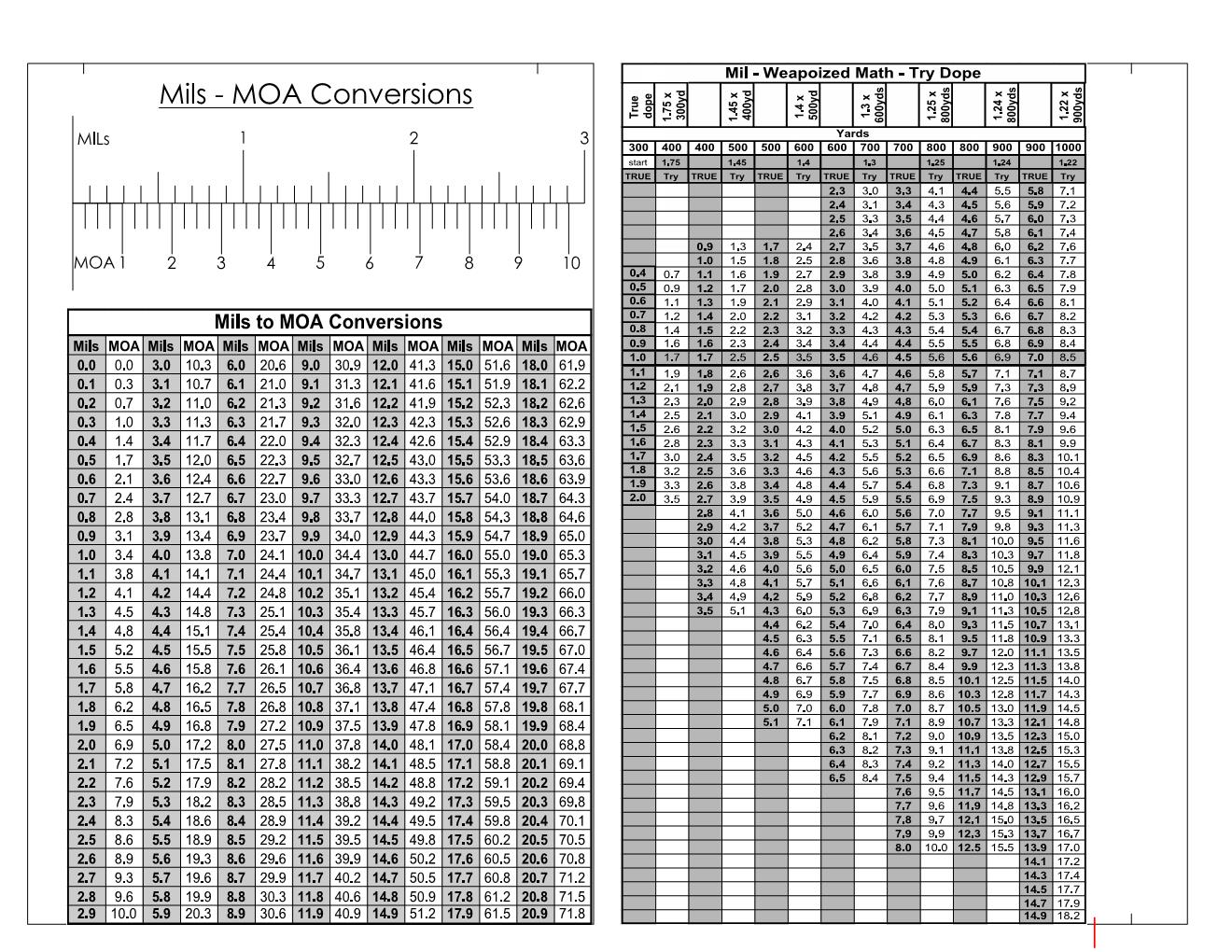 This sheet is MOA based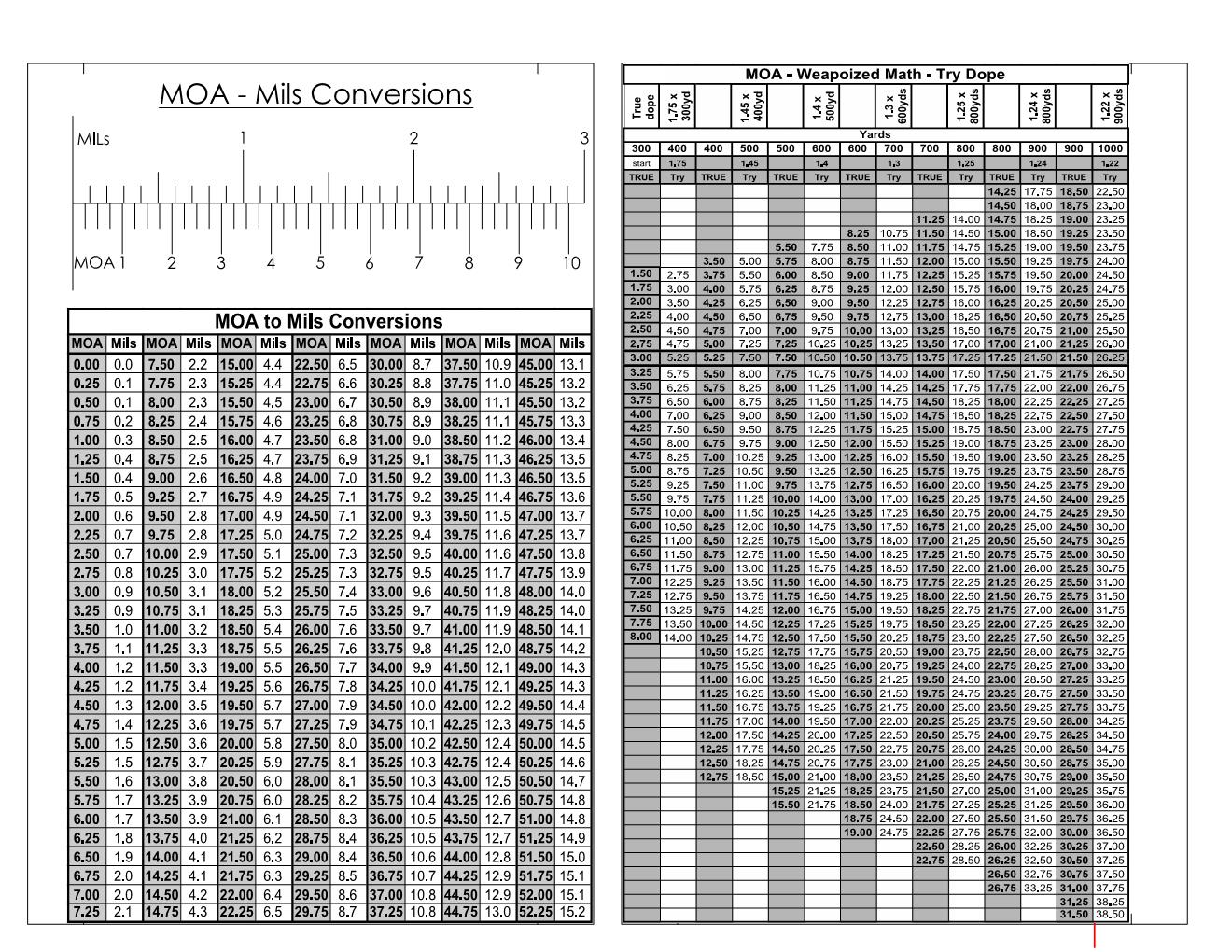 Last edited: