Lance Criminal
Full Member
Minuteman
Mar 14, 2010
5,948
5,147
50
When Remington imploded, LRI was able to purchase the last of the Nesika product line. What we have is a collection of receivers and a handful of random bolts. (some complete, some as bolt bodies only)
I've clung to this stuff for personal reasons (I was once a production manager there) but the time has come to clean off the shelves as I'm turning into an episode of "hoarders".
If you are a capable machinist, it's very possible to design and machine your own bolt from scratch. It is work, but there's nothing "NASA" about it. With winter knocking on the door, maybe this can be a winter project for someone.
Up for sale:
Nesika Model MT receivers. We have 24 of these. Price is $100.00ea or buy the lot of em at $60.00ea. The MT is a long action with a target style ejection port. They also had a bunch of extra base holes (8-40) in the tops of the receivers. These feature the Nesika version of the Remington tang and the sides are ported for the external bolt release. As with all Nesika products, these receivers feature ID drilled/honed receiver bores with wire EDM finished raceways. Nesika was one of the very first custom actions to ever offer this as a standard feature. Recoil lugs are Remington style and intended to be pinned to the action face. 1.0625-18 is the standard Nesika receiver ring thread pitch. Receiver material is 15-5 ph stainless.
I know at home I have a gaggle of bolt shrouds, bolt knobs, and other assorted small parts. Anything I have in the bins will go with these too if someone should elect to buy the whole lot.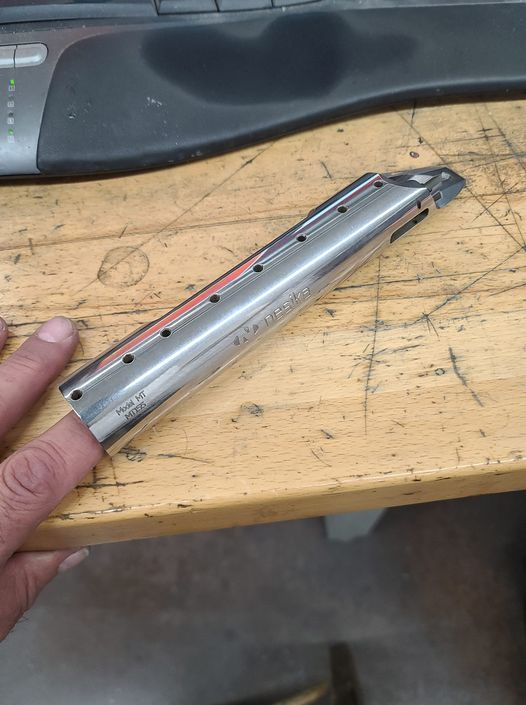 IMPORTANT NOTES:
This sale involves a serialized firearms part that requires a BATFE Form #4473 background check. LRI cannot ship actions directly to private citizens. You must either appear in person (if local or from a state that physically touches South Dakota) or we must ship your new action to a dealer that you are comfortable working with.
It is your obligation to find a dealer able to navigate this transaction for you. They must provide LRI a copy of their valid Federal Firearms license in order for us to complete the sale. The easiest means of accomplishing this is to have them EMAIL a JPEG or PDF image of their valid FFL. Use
[email protected]
as the email address along with "Nesika Actions" in the subject line.
Note that you are purchasing a receiver and small parts.
This is not a complete rifle. Additional parts/work will be required for it to be put into service.

ALL SALES are FINAL. No returns, No refunds.

You must call the shop to complete the transaction. 605.490.2561 8am-4pm MTN

Thank you!