Sergeant of the Hide
Full Member
Minuteman
Ok so i could not find any info out there about this brake. It's the style i wanted and made of steel. Not aluminum, so it will hold up to my 300 PRC. All i gotta say is this this is awesome. I didn't weight it but its heavy. Comes with crush washer and lock nut, though the lock nut would be 100% useless with this brake. The shoulder of the brake is recessed in quite a bit. Enough so the lock nut would be covered and the crush washer is hidden. That being said any barrel with a thicker muzzle than my Savage 110 FCP may have issues. HUGE reduction in felt recoil over the oem FCP brake. Keep in mind i do not shoot at a gun range or anywhere where a brake will bother others. There is no difference in felt blast to the shooter vs the OEM brake. There is FAR LESS dust kicked up vs the OEM brake. So it's definitely functional and looks good on my build. Personally I love it.
Ordered from EBAY, Gunbloke is the seller. Took 6 weeks almost to the day to arrive. Again. i love it. Personally i like that the shoulder is recessed on the brake hiding the crush washer. Gives a clean looking instal.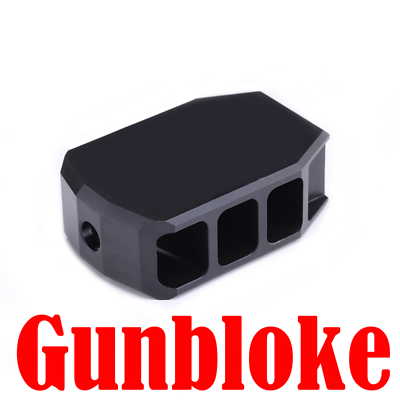 .308, 300WM etc. "THE TANKER II" MUZZLE BRAKE COMPENSATOR. THE TANKER II is designed specifically for high precision rifles and long range hunting rifles. HARDCOVER INCLUDED WITH EVERY MUZZLE BRAKE.
www.ebay.com
ALL PHOTOS WERE BEFORE USE RIGHT AFTER I INSTALLED IT.