Was bidding on a used Kestrel 5700 Elite and lost on eBay. $455 before tax and shipping was the winning bid. Didn't frown, but was sad. But found this vendor in Canada selling Kestrel Sportsman Link models with soft case and vane mount for $339 with free shipping. Price with GA sales tax was $366. Units are contract overrun and are new old stock. Will send in to Kestrel to do the Elite upgrade and get the screen cover swapped to Elite Ballistics. Was going to grab an Elite with Link from Grab A Gun for $549, but the free soft case and vane mount makes sense for me. 12 units left as of this posting.
Here is a link if anyone is interested. Thanks Hide family!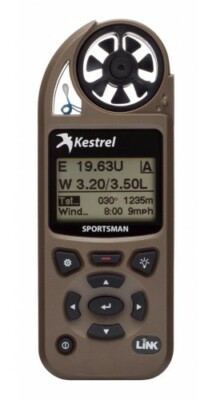 The built-in enhanced Applied Ballistics G1/G7 ballistics solver is tested and trusted by long-range hunters and shooters. If you think you'll be going beyond that, consider theKestrel Elite. You can upgrade later, read on.