Sergeant
Commercial Supporter
Belligerents
Aug 6, 2008
1,376
790
219
Hello fellow LR shooters, in this thread we'll give you some info on what we have coming in 2020. There will also be a brief rundown of what we introduced later in 2019 that you might have missed.
We'll put a new thing up every so often until we have them all. Stop by our booth, 20601, at SHOT or look out for the various media posts.
Thank you for looking and thank you especially for your business. We work hard to design and produce useful and eye pleasing products for you guys and for our own personal use.
1. A new generation of X-ray- It has some nice improvements that we think you'll enjoy-
-Rear stock is now single piece rather than clamshell style with screws
-Tool-less cheekpiece can now be switched to have the thumbscrew on the opposite side
-Tool-less buttpad height is now standard
-Optional tool-less LOP with buttpad height kit available that swaps in
-LOP thumbscrew can be switched to opposite side as well
-Front end is same as latest gen 3 which includes additional NV mounting points plus enlarged barrel channel to clear 1.25" straight (we still don't recommend that heavy).
-Final weight not yet known but should be close the gen 3 X-ray of 3.1 lb
-Intro price $449
Avail- late 1st QTR/2nd QTR '20


2. Bravo Chassis for CZ-457-
Just like it sounds, our Bravo chassis inletted for the nice CZ-457 action- $369, avail Jan/Feb '20:
View attachment 7224577
3. Flat Bag Rider for your Bravo Chassis- cost around $12, avail. late 1st QTR:
4. 2-Round Quiver to fit KRG chassis. Has 1.19" hole spacing (Magpul MOE L2/5 slot spacing) which is our standard mounting (plus one in the middle). Price TBD, avail 2nd QTR '20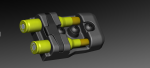 5. Tool-Less Length of Pull for Bravo Chassis. This is billet machined, has tool-less buttpad height built in as well. This will take your Bravo functionally to Whiskey-3 equivalent in the rear half. Cost is TBD but north of $200, avail. Feb '20.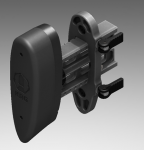 6. Bravo 10/22- A Bravo chassis to fit your 10/22 with an extra short LOP (~11" starting), accommodations for aftermarket receivers, tool-less cheek height as usual, spacer LOP as usual. Cost $249 intro price, avail 2nd QTR '20

7. Tool-less Length of Pull for 10/22 Bravo- A low cost version, it only fits the 10/22 and has buttpad height adjustment also which requires a hex wrench. Cost under $50, avail late 2nd QTR: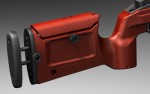 Last edited: