Cody Hooton for FL's 6th Congressional District
Belligerents
Feb 22, 2013
1,246
211
169
Hey all! ?
I'm selling my like new, assembled/never fired LMT MARS-H lower with parts bought separately.
Knight's Armament and LMT make the best 308 AR platforms on the market! This lower is completely ambidextrous.
LMT MARS-H (SR25 spec lower) parts bought then assembled on the lower:
- LMT ambi safety came with the lower (DMPS spring/detent)
- Knight's Armament sr25 Pivot & TakeDown Pins (Brownells detents/springs)
- BCM mod3 pistol grip (black)
- BCM Intermediate/A5 buffer tube (Brownells buffer retainer/spring)
- Brownells castle nut/endplate
- Magpul PRS Gen3 stock (black), comes with adapter incase you want to run an m110/rifle length tube
- Knight's Armament trigger guard
The small white marks on the QD plate on the PRS stock is from one of my walls it leaned up against once... it'll rub off.
All you need to buy for this lower is a trigger group, buffer, and buffer spring.
I will not part anything from this lower.
Don't hesitate to shoot me a PM / ask a question!
NO TRADES



$700 SHIPPED to your local FFL
........ *** NOTE *** : any State not allowing me to personally ship to your local FFL, you will need to pay extra fees due to your State's need for me to ship through my FFL.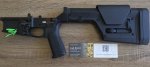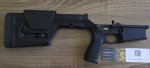 Last edited: