I found myself making a home for yet another orphan, whose former owner had to put it into the "pound" because he was going into an old age home.
It just looked at me pitifully, and I couldn't say no.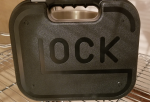 You're thinking, no doubt, that this was quite the departure for me, hater of all things Glock.
.
.
.
.
.
.
.
.
.
.
.
.
.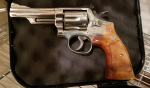 No worries. Glock doesn't make pinned and recessed Model 19s, especially not cherry ones in nickel.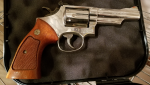 I think that I shall call this cruel bitch of steel and wood ...
Nancy.
So, what did
you
do to mitigate your election anxiety by way of retail therapy?