Gunny Sergeant
Full Member
Minuteman
Link:
Story on Accurate Shooter
March 28th, 2021
Sunday GunDay: .300 WSM Pending 1K World Record Heavy Gun​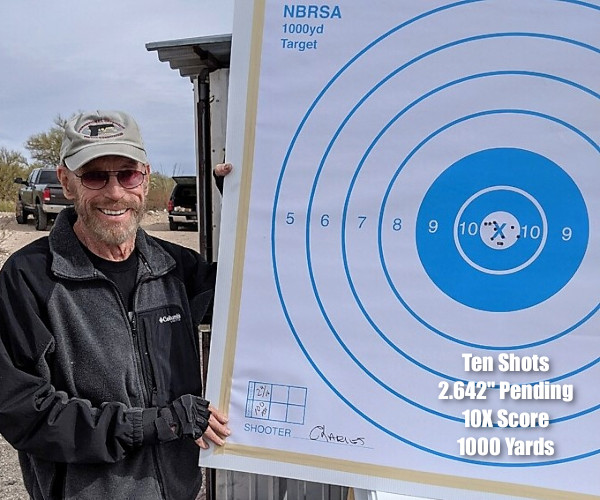 This Sunday we feature an impressive .300 WSM Heavy Gun shot by a superb long-range shooter. With this rig, at age 83, Arizona benchrest ace Charles Greer drilled a remarkable 2.862″ 100-10X group, beating all known 1000-Yard HG 10-shot records on the books. If this record is approved (which is likely), Greer's .300 WSM can rightfully be hailed as the most accurate 1000-yard gun in history.
CLICK HERE
for full-screen rifle photo.


Story compiled with help from Jason Peterson
This would be an excellent 10-shot NBRSA Heavy Gun group at 600 yards, but this target was shot at 1000 yards by Charles Greer (aka "chuckgreen" on AccurateShooter forum) on February 13, 2021 at an NBRSA Match in Arizona. Chuck was shooting his .300 WSM Heavy Gun with Borden action, Krieger barrel, and Berger 220gr Hybrids. The event was hosted by the Sahuaro 1000 Yard Benchrest Club, at Three Points Range, outside Tucson, Arizona. Though it is pending final approval, it appears this is the smallest 10-shot Heavy Gun group ever shot, anywhere, at 1000 yards, and it was centered for a 10X. That's doubly impressive when you consider that Charles Greer achieved this at age 83! Yes "Old guys rule"!
Amazing 100-10X 2.642″ (unofficial) 10-Shot Group at 1000 Yards.
This group is perfectly centered for an amazing 100-10X score. The group was range measured at 2.642 inches. For reference, the 1000-yard X-Ring is 3.00″ in diameter. The "X" itself is about 1.2″ tall. Pending final verification, this amazing target should shatter two NBRSA records. This handily beats the current single target HG score record of 100-6X held by Bill Schrader since 2005, and the single target HG group record of 3.650″ held by Tim Height (2019). For comparison, the current IBS 10-Shot 1000-yard HG group record is 2.871″ by Michael Gaizauskas from 2016. So it appears that this may be the smallest 10-shot group ever shot in competition in history. And from what we can determine, this is the first potential HG size record that also has a 100 score with TEN Xs.
Because shots are not marked in this discipline, this stunning group was a surprise to Greer: "I had no idea that I was shooting a world record target until I went back to the pits after my relay. Just as well. If I'd seen nine rounds in the X on the target, staying steady [for the last shot] would have been challenging…."
Forum member "Tom" (2016 IBS 1000-yard Nat'l Champion and holder of several IBS 1000-yard records) unofficially measured Greer's 1K group at 2.680 inches (0.256 MOA), using Ballistic-X software. Awaiting final group measurement by the NBRSA Long Range Committee, as currently measured, this target is just under existing IBS and Williamsport 10-shot HG 1000-yard records: The current IBS HG 1000-yard group record is 2.871″ held by Michael Gaizauskas. The current Williamsport HG 1000-yard group record is 2.815″ held by Matthew Kline.
Benchrest Shooting — Sport for All Ages

Charles Greer reminded us that even senior citizens can succeed in benchrest competition: "One of the benefits of benchrest shooting is that it is a sport accessible to us even as we age. I cannot run and gun anymore like I used to do in IPSC and IDPA but as long as I can get my body and my equipment up to a bench, I can still be very competitive. That is not possible for us old guys in most sports and shooting disciplines. As I am 'only 83′ I am hoping to squeeze a few more years of competition out of the old body before I have to pack it in for good."

Charles is thankful for what he has achieved in this sport over many decades: "The Shooting Gods have certainly smiled on me from time to time during my brief shooting career and for that I am incredibly grateful."
This target may also be the smallest 1K 10-shot group ever shot in competition, in ANY Class. In 2014, Jim Richards fired a 10-shot, 2.6872″ Light Gun group under Williamsport Rules at Deep Creek Range in Montana. However, Jim's record small group was NOT centered in the 10-ring and it appear that Greer's group could measure smaller. [Editor: Charles is no stranger when it comes to 1000-yard records. Charles is the current listed holder of two NBRSA 1000-yard score records: 3-Target HG Score: 294-8X (2010); 6-Target 2-Gun Score: 441-13X (2010).]
100-10X at 1000 — This May Be a First
After looking at all the 1000-yard records from different organizations, it appears that Greer's 100-10X score could well be a first! And it may be many years before another 100-10X score is ever shot in competition.
Arizona's Three Points Range is known for its windy conditions. So much so that small groups are not common in match reports. 6mm cartridges that are commonly shot at other 1000-yard benchrest competitions are rarely shot at Sahuaro 1K BR Club matches. The bigger calibers dominate here.
Charles Greer NBRSA 1000-Yard Heavy Gun Specifications:
Action: Borden BRMXD drop port
Barrel: Krieger 30″ 4-groove, 1:10″ twist, custom contour 1.35″ tapered to 1.00″
Chambering: .300 Winchester Short Magnum (WSM)
Chamber Specs: .337 neck with .280 freebore
Stock/Weight: McMillan/Wheeler LRB (solid fill) stock at 27 pounds
Gunsmith: Gerald Reisdorff
Optics: Vortex Golden Eagle 15-60x52mm
Front Rest: Sinclair Competition with 4″ Edgewood bag
Rear Rest/Bag: Wahlstrom mechanical rear rest with custom Edgewood bag
Load Details: Norma .300 WSM brass, Alliant Reloder 23 powder, Federal 210M primers, Berger 220gr LR Hybrid bullets at 2800 FPS
Last edited: