Supporter
Supporter
Commercial Supporter
Minuteman
Hello everybody!
We've decided to make a thread devoted to our carbon fiber stocks to present them to you and to tell more about us and our work. This thread will also cover some of our ideas implemented into the stocks, carbon finishes, general questions - and hope that this thread will be a place of discussion and pics from our customers in USA and Canada as well.
WHO WE ARE.
We are company Raven Euro from Bulgaria. Our factory is located in Burgas and we are making carbon fiber stocks for more than 10 years. We are well-known in Europe, as our main focus was making the stocks for Blaser R8 and R93 straight-pull rifles, as they are very popular in Europe. We have our own metalwork manufacture, our own R&D and design divisions and can handle OEM manufacture of any kind of stock designs for any action.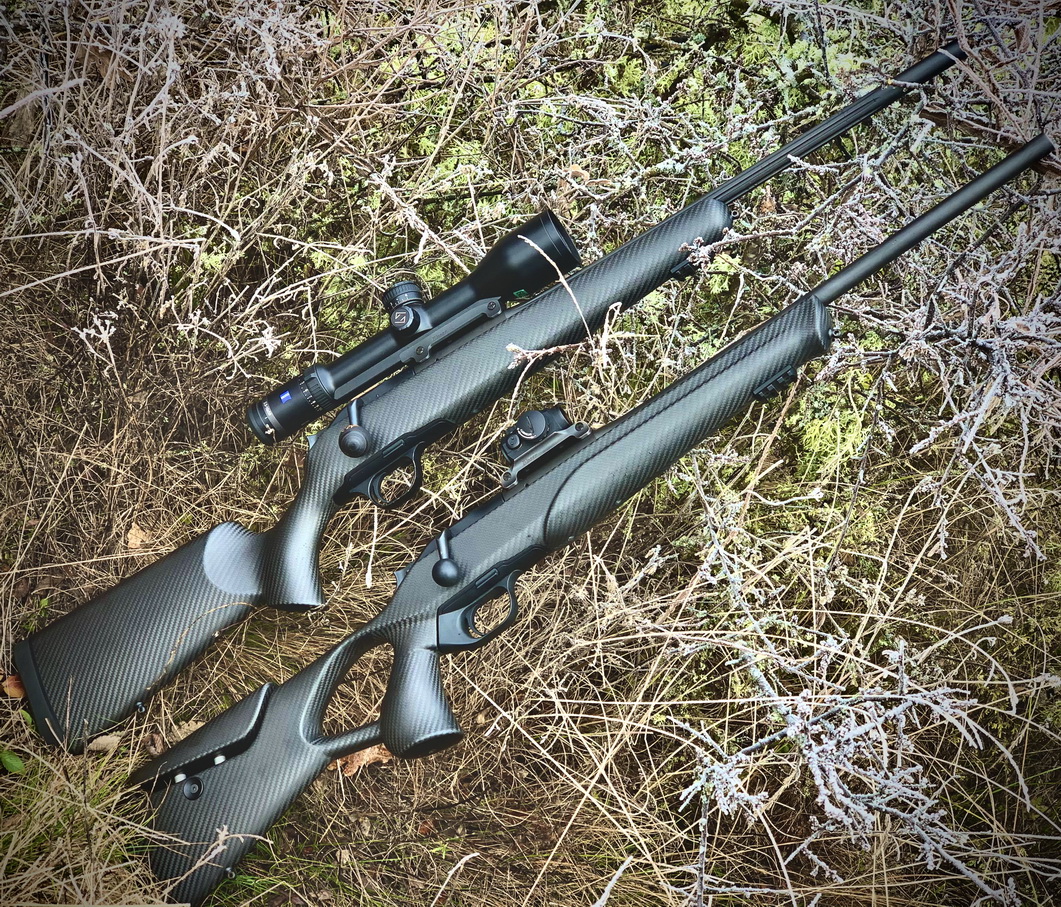 OUR TECHNOLOGY
We use highly advanced aerospace grade technology, utilizing prepregs and high heat and pressure processes when producing our stocks, allowing for the most stable and repeatable result. These technologies and materials are top of the line and currently are the best available on the market. The difference between prepregs and "usual" carbon fiber is the following - in simple, carbon cloth is placed into the mold, then the worker applies the epoxy resin, then another layer of material, then epoxy again, then wait for the whole composition to cure.
In this case the following can happen - the epoxy resin simply doesn't fill the material and this causes air bubbles to appear inside and work as stress concentrators. In this case the structure might be prone to twist, flex or damage as the whole structure won't be rigid. Dry zones are also a problem of hand layup.
Prepreg is the common term for a fabric which has been pre-impregnated with a resin system. This resin system already includes the proper curing agent and because of that the prepreg is ready to lay into the mold without the addition of any more resin. In order for the laminate to cure, it is necessary to use a combination of pressure and heat. Prepregs have the edge over hand layup and their main advantages are part uniformity and repeatability, as well as maximum strength properties because of the optimal fill with epoxy resin.
This sounds great - but the disadvantages are the price, which is higher if compared with "traditional" manufacture - and the nessesary equipment for high heat, pressure - and sustaining this heat and pressure for the cure to be laminated. We worked with all possible technologies and decided to go with prepregs.
OUR MODELS
As mentioned, we are from Bulgaria, EU. In Europe Blaser rifles are the most known and liked by hunters because of their multi-caliber system and because it's a straight-pull rifle. Because of it we make the stocks for Blaser models R8 and R93.
Still, we recently developed a new model of stock for Tikka T3x rifle. This bolt-action from Finland is also a popular rifle in EU, the action is used as a hunting rifle and as a base for a custom long range rifle build as well - and we decided to make a new model of stock for Tikka T3x. It is a lightweight, no flex, no twist hardcore monocoque stock that is rigid and stiff for use with any barrels. And another main advantage is that barrel channel and the trigger guard surfaces are formed, not milled afterwards, making the structure of the stock extremely rigid.
We also have an idea of adjusting the MT30 stock design to work with Remington 700 footprint and are already working on it.