Private
Full Member
Minuteman
I saved a bunch of my .308 brass, mostly Hornady from eld loads. I dont reload so hopefully you guys can use them.
Im not exactly sure how many I have, but it looks like close to between 500 and 550 pcs. (Each cup holds about 50pcs and I have 11 cups)
97% Hornady, might be some federal mixed in but once I found my favorite loads,, I only shot ELDS . They were shot from a DTS and a bartlein barrel by SAC.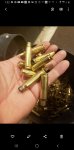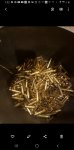 I imagine we would ship USPS in one of their flat rate boxes so just figure we will add that to price.
I asking 100 bucks plus shipping, Payable to PayPal freinds and family.