Cody Hooton for FL's 6th Congressional District
Belligerents
Feb 22, 2013
1,246
211
169
Hey all!
I am selling 4 NEW Accuracy International AW 10round 308 magazines ? ??
These will work phenomenally not just in the AI rifles, but any Defiance Deviant Tactical, Rem700 with the proper magwell cut, etc with an AICS bottom metal/DBM.
These are double stack, double feed, and can be topped off while in the firearm.
The price is for 2 each... they are already packaged in pairs ....
$135 per pair SHIPPED

2 pairs available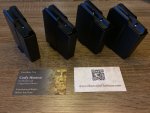 Last edited: