Cody Hooton for FL's 6th Congressional District
Belligerents
Feb 22, 2013
1,246
211
169
Hey all!
I'm selling a lot of 45 ACP and 9mm brass of mixed brands (some nickel plated brass).

All of the brass has been deprimed and ran through my wet tumbler.

I counted the 45 until one of the USPS Large flat rate boxes had the same visual amount as the other (~1600 pieces each)
Out of pure transparency, I did not count the 9mm brass... "Ain't nobody got time fo' dat!"
..... It's a USPS medium flat rate box a little more than half full. Looks like a solid 1500-1800 pieces.
45 ACP ..... $100 shipped EACH ..... 2 SOLD
9mm ..... $70 shipped
..... SOLD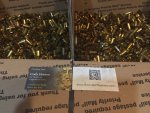 Last edited: