850 Berger 105gr 6mm Boat Tail Target bullets. Part# 24428
Two different lots. 500 of one lot and 350 of the other. All of them are still sealed except for the open box with 50 left.
$360 shipped to local 48.
I accept Zelle, Cashapp, and USPS Money order. Message me for my phone number if you have any questions.
Willing to trade for:

KRG Bravo for CZ457
FFP Scope of equal value
KRG Bravo for 10/22
H4895 powder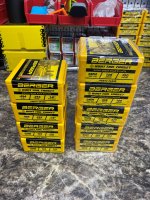 Last edited: