I fly stuff and I know things.
Belligerents
Minuteman
Selling off some extra ammo, as I have more of this than (I hope, haha) I'll ever need. This is a high quality barrier blind load using Hornady's GMX gilding metal projectiles, loaded to 5.56 NATO (NOT .223Rem!) velocities. This load meets DocGRK's criteria for a recommended defensive ammo, and since it's a 55gr loading, it gets pushed fast enough out of short barrels to still be effective at distance and will also shoot very close to POA/POI if you're running M193 for practice ammo. These also have crimped and sealed primers!
I have 120 rounds available, and am asking $150 FTF for all of it, or $75 for 60 rounds. Not interested in selling it by the box or in different quantities. This is pretty tough ammo to find, even before the Covid craziness, and my price reflects what I paid for it after shipping and tax was accounted for (again, at pre-Covid prices, so I'm not jacking the price up). Definitely not plinking ammo, but if you want a quality defensive load that's also barrier blind, this is one of the top picks on the market.
No trades, no shipping. Pick up in Chandler, AZ. Cross-posted, so the first "I'll take it" posted in the thread, followed by a PM, gets first dibs. Any other questions, just ask. Thanks!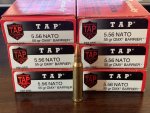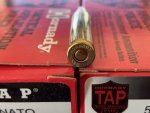 Last edited: