Gunny Sergeant
Belligerents
Mar 15, 2009
701
401
69
50
I have a Huber Staged break trigger for sale. This is a single stage trigger. Blued in color. Right hand safety. No bolt release.
$230 shipped
Possible trades (up/down):
Low 34mm Rings
Savage barrels
LA Magnum Savage action
Chamber reamers
LMT Enhanced AR15 bolt
Frankford Arsenal Intellidropper
Fits R700 and clones. It worked amazing in my American Rifle Company Nucleus. No issues ever, 100% reliable.
These feel amazing. It isn't just a light trigger pull, it feels way better. I was told it was ordered as an 8 ounce and I have no reason to doubt it. Huber CS is amazing as well, he sent the test results for THIS trigger.
UPS lost a trigger being shipped to me so I bought this one to replace it but the lost trigger showed up, a month later. So now the Huber is an extra trigger I no longer need.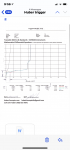 Last edited: