Private
Hessian
Belligerents
SOLD*** LIKE NEW Kahles K18i 1-8x24 LPVO 3GR $2100 plus Aadmount Scope Caps
Had the Kahles 16i on my 223/14.5" carbine for a couple of years, then decided to try the 18i in June, so I purchased this from Scopelist. Was very impressed with the FOV and clarity (better than the 16i), smooth throw lever (2 to choose from), its light weight, and especially the 3GR reticle (even brighter than the 16i, especially with MAX LIGHT function). Took it to the range to sight in and it performed flawlessly. Then came across a fantastic deal on a S&B Short Dot Dual CC 1-8 and decided to go with the FFP instead.
This scope is in like new condition with original box and all included items. It was mounted briefly in an ERA-TAC mount and torqued to 18 in/lbs with a torque screw driver. There are no ring marks/shadows and the scope works perfectly. Was on my rifle for less than 100 rounds. Aadmount scope caps included (designed for 16i, will fit 18i).
SOLD.
This is a savings of more than $400 off street price with sales tax. Not interested in trades.
Happy to answer any questions on this thread or by PM.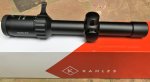 Last edited: