Send it!
PX Member
Minuteman
This is my own Kestrel that I bought brand new and has served me very well. It is in excellent condition both physically and working, screen has a few minor scuffs that are barely visible. I will also include the awesome hand cut lanyard that you see in the picture and a very nice Energizer Lithium AA battery, along with a brand new battery in the box. I have had this connected to my Leica 2800.com LRF and it has worked great, can also pair with Sig LRF's with BT. This has Ballistics software but it is not "Applied Ballistics"; however it can be upgraded to "Elite" (see link below). Comes with the original box and paperwork.
SOLD
Asking $345 Shipped to CONUS. PayPal FF or Zelle preferred. PM me if you have questions, no trades please.
You can get all the technical details of the unit below:
The Kestrel 5700 Ballistics Weather Meter measures wind, altitude, and all critical weather and ballistics variables to give an accurate long range shooting solution. Featuring an on-board G1/G7 ballistics solver, the Kestrel 5700 Ballistics Weather Meter is the all-in-one tool for first shot...
kestrelmeters.com
Here's a great review of the Sportsman unit which is essentially the same (see above link for details on differences)
We were set up on a Wyoming plateau as the sun broke the eastern horizon. Below us, a herd of antelope slowly grazed toward a distant fence line. As the lone pronghorn fell in line behind them, I r…
panhandleprecision.com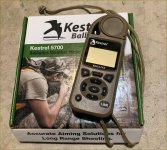 Last edited: