Sergeant of the Hide
Belligerents
Minuteman
McMillan A-6 with an Awesome Second Amendment paint job! Red Beard I think?!?!
Cheek is adjustable in hight and left or right.
Butt pad is adjustable in length of pull.
Had a Defiance Deviant and Heavy Palma barrel in it.
Area 419 Arcalock rail
Hawkins M5 detachable BM
Bought this year and only took it to the range once. Feels like "butter", but it is too pretty for me...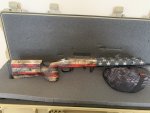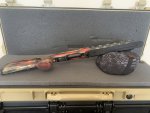 Last edited: