ALL ITEMS SOLD

*SOLD SOLD*
The first scope is the
Leupold Mark 8 3.5-25x56 ER/T #170813
. This model has all the bells and whistles including illumination with the TReMoR 3 reticle. You can find the scope new from $4500 to $4700 before taxes. I'm looking $3400 shipped to your door.
*SOLD SOLD*
The second is the
Leupold Mark 6 3-18x44 #117876
. This model is a phenomenal option for anyone who is looking at topping off an AR-10 build. This scope has the TReMoR 2 reticle. This one in the same new condition can be found for $2500 and again I am asking $1800 all in to your door.
*SOLD* Mark 8
$3,400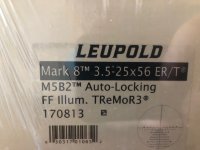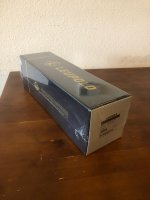 * SOLD* Mark 6
$1,800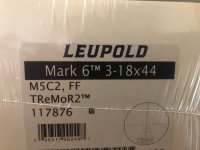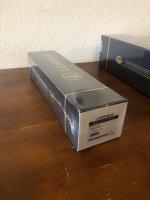 Last edited: