Up for sale is my like new custom rifle built by TS Customs. The rifle has seen very little use and is in like new condition. The rifle can be configured in either 6.5 PRC or 6 Creedmoor or you can have them both, buyers choice.
Rifle specs:
Impact 737 action
Manners EH1 carbon fiber (folding stock) with pic rail, flush cups, pillar bedding
Hawkins bottom metal with pic rail
Huber two stage trigger
Proof Research 8 twist 24" carbon barrel in 6.5 PRC Match (will not fire factory ammo without seating bullet down a little) with 5/8x24 threads with one 5rd AICS mag and one 10rd Alpha mag
Benchmark medium palma 8 twist 22" barrel in 6 Creedmoor with 5/8x24 threads and black cerakote with one 10rd AICS mag
The 6.5 PRC barrel has 140 rounds through it and was sending 140 hybrids over 3100 fps and the 6 Creedmoor barrel has 40 rounds through it. I have the fired brass if the buyer is interested. I also have a barrel vise and action wrench too that I'd sell.
The bare rifle in 6.5 configuration with no mag weighs 9.34 lbs. See picture below.
SOLD
""""No trades at this time and the rifle must sell first before I'll let the other options go.""""
""""Suppressor, Bipod, Scope, Rings, and Tripod pictured are not included.""""
I will accept a certified check, PayPal gift, or you cover the fees. Also your FFL must accept from an individual.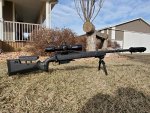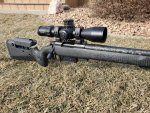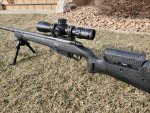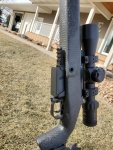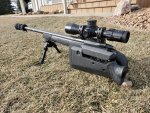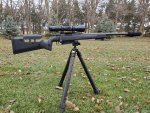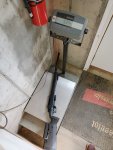 Last edited: