War Machine Leather Works
Supporter
PX Member
PX Member
Minuteman
Well, finally got this rifle built the way I wanted it and due to some life changes I need to sell. Approx 150 Rounds fown the pipe. See specs and pics below.. This is a turn key set up ready to roll. I purchased the Action used here on the Hide with approx 1k round fired (not by me). Everything EXCEPT THE BIPOD to include Rifle, Scope, Mount, and all accessories are included in the sale. Rifle / Scope weighs approx 22lbs with weight kit installed. Around 16-17lbs without.
-Impact 737 SA 308 BF (1000 rd count)
-26" Bartlien Heavy Palma 1:8 chambered in 6.5 Creedmoor. Muzzle threaded 5/8 x 24. Chambering and threading done by Ern @ Altus Shooting Solutions (120 rds fires)
-Insite Arms Heathen Muzzle Brake 6.5
-Trigger Tech Diamond Flat Shoe Trigger
-MPA Competition Chasis in Tungsten includes:
- Full Weight Kit (Forend and Buttstock)
-Monopod
-Spigot Pic Rail
-Barricade Stop
-Fixed Cheek Riser
-Adjustable Offset Cheek Riser
-Area 419 Arca Lock 14" Rail MPA Weight
Compatible
- L-(2) Round Shell Holder
-Vertical Pistol Grip
-Grey Ops CNC Thumb and Finger Rest for MPA
Also include in sale :
-(2) 12 rd MDT Mags
-(1) Impact Action Wrench
-Khales k624i LSW, (6-24x56) w/ SKMR-3 Reticle, MIL/MIL, includes magnification throw lever, parallax rapid adjustment knob, and protective cap for windage turret.
Scope is absolutely pristine and will come with original box, hardware, and paper work.
-Spuhr 4601 20MOA Mount
$5500 for the entire kit

$2300 For Khales / Spuhr 4601

$3200 For Rifle and Accessories

$2000 For BA, Brake, Trigger, and Actiom Wrench

$1000 For MPA Chasis and Accessories (Minus Bipod) to include 2 MDT Mags

Prices don't include shipping / Insurance
You can't build this set up for that price. No trades. Need the Cash. This is funding me and my families "Get out of Commiefornia" Exodus. DISCREET PP FF or add 4% or Cashiers Check Only. Will ship through FFL. First I'll Take It followed by PM gets it.
Feel free to hit me up with any questions or concerns.
EDIT: RRS is not included in sale...
EDIT: The pics with the Spuhr Rings (not Mount) are older pics. I have since replaced the rings with the Spuhr 4601 Mount as seen in first few pictures.
S/F
Seth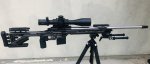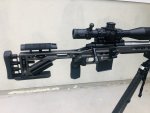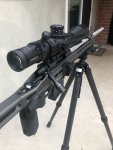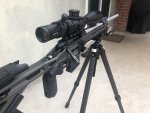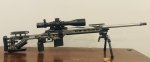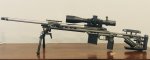 Last edited: