Older US OPTICS 3.2-17X scope. 30MM tube. Parallax is on the front bell. Red Illuminated GAP MIL reticle with MIL turrets Includes Vortex objective cover, USO reticle cover and US Optics bubble level mount and leveled on scope. ITAR - US Shipping only.
Sight picture is at 17X, 200 yards. Easily hit out to 800+ yards with my 6.5 Creedmoor. Used, very good - excellent condition. Minor rub marks from rings and handling. This scope is not a safe queen, it's been out for shooting. Very faint marks on objective from cleaning cloth - no impact on clarity of the scope. References available on e-bay and calguns. $1200 price includes shipping and insurance.
PayPal friends and family if you want the goods and services option you pay the extra 3%, VENMO okay.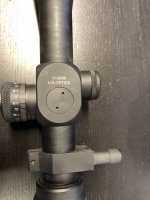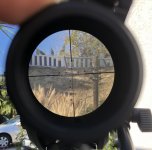 Last edited: