I have for sale a custom .22 built on a vgw action barrelled by GA Precision. It has a GAP #6 barrel 16 twist. It has 1/2 x 28 muzzle threads. It's bedded into a Manners PRS 1 with Sokup Machine bottom metal and night vision rail. Metal is painted GAP OD green and the stock is painted woodland by ltm. It has about 150 rounds on it. It will come with one magazine.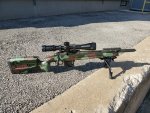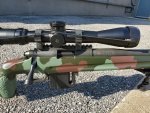 Scope rings and bipod not included.
3250 shipped, no trades.