Sergeant
Full Member
Minuteman
Ok, just got a new order of 500 pcs of Winchester 308 brass from midway, 10 bags of 50 all same lot.
I noticed right off the bat they seemed thin, just by eye.
I have a lot of FGMM brass since i bought lots of it to practice with before I reloaded and have been using that up. Seems like it doesnt get much respect (unless FGMM is different than bulk federal) but it has worked great and my rifle loves it. It is definitely more substantial than the win brass i just got and looks a lot more like the lapua brass with the sharper machining and more thickness.
The Win brass cases I just received are averaging about 20 grains lighter at 157 grains than the FGMM brass (177-178grains) or the 80 rounds of lapua (175g) i have around, and that is before uniforming the pockets, deburring etc which will remove more weight.
I know it is a very popular brass but is this right? Case mouths were .003 thinner or so as well.
The inside floor of the case is not flat wall to wall. It is like the inside flash hole is sitting in a depression - I'll try and get a better pic of this if I can this one is a little blurry but you can the circular depression the flashhole is in.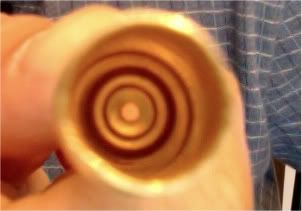 Both the FGMM and the Lapua are flat edge to edge inside the case.
I have not worked up a load for this brass yet just wanted to be sure this was typical first.
Thinking about sending it all back and just springing for lapua even at twice the price if this is not what everyone else is getting.