Gunny Sergeant
PX Member
Minuteman
Prices include shipping and insurance inside the 48 States.
I ship daily around noon, and take PayPal (you pay 2.9% fee if you choose) or check. I'm open to
trade
for a
YOTE backpack, Velocity Systems Gen V chest rig
or
Mk12-ish rifle/components
or
LPVO optic
. Cash on my end as appropriate.
***Please include your shipping info and quantities when you PM me***
Berger 156gr Extreme Outer Limits
1x 200rd case ($550)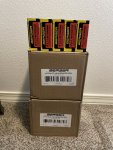 Last edited: