NIB Spuhr SP-4011. 34mm ring size, 0 MOA, 1.102" height. Extra Low - read the mile high description below.
Unmounted. Screws and level still in the bag.
*$325* shipped & insured CONUS. Zelle or Venmo preferred. Will do paypal f&f as well.
No trades for now
Spuhr SP-4011: A 34mm mount with very low height (1.102in) designed for GA Precision, with grooved rings, and 7 mounting placements for accessories.
www.milehighshooting.com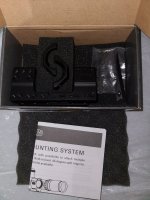 Last edited: