Send it!
Supporter
Full Member
Minuteman
Supporter+
Three scopes walk into a bar, the first is a ZCO, the second a Kahles and the third a Schmidt… and so the joke goes, but in reality, it was 6 scopes, and Minox joined the party as well and the punchline of the joke is… well read on and we'll get there. Right before SHOT 2018 I was thrilled to hear about all the new Ultra Short scopes that were coming to market to challenge the reigning champion and original innovator of Ultra Short style scopes – Schmidt & Bender. Two makers stood out – Kahles with the K318i and a newcomer to the sport – ZCO with their ZC420, I was so enamored with all the new releases I started a thread on the Hide called "
2018 – Year of the Ultra Shorts
" where I highlighted a number of scopes from different manufacturers, but it was the alpha level I was most interested in. Over the years I've owned 3 Schmidt and Bender Ultra Shorts, and for one reason or another I was always left wanting (mostly in the reticle department) so when the K318i with SKMR and ZC420 with MPCT reticles were announced I began to speculate how good these optics would be and whether they would rival the reigning Ultra Short champion – Schmidt & Bender. About this time last year I bit the bullet and purchased a K318i soon after it was released and quickly fell in love with this scope, it had amazing glass, was very short and had a very usable reticle for what I like in the SKMR3, I have considered it the best ultra short scope both optically and mechanically as compared to the Schmidt's even though it does not have the best FOV of the bunch, so when a fellow shooter told me he bought a ZCO ZC420 we began to plan an outing where we could review a bunch of these at one time and find out which ultra short will rule them all.
A bit of background, I've been shooting for over 35 years was in the Army in the late 80's, got into hunting in the 90's and began my pursuit of long range shooting around 2012. Almost all my rigs serve dual purpose as both hunting rifles and long range, due to time commitments I do not compete, but I love to shoot when I get the chance and I love to improve my long range skills as well as have optics that can help me in the field especially when the light gets low. Thus, my pursuit for the perfect long range/lightweight scope began and that rabbit hole has taken me all over the place. FFP was another priority, but if you are looking for a lightweight FFP optic you will find few options. My journey has taken me through US Optics, Valdada/IOR, Vortex, Bushnell ET, March, Premier, Kahles, Schmidt and Minox ZP5 to name a few, some were duds, some were great but not quite right and then there's the ultra shorts. My first was the Schmidt & Bender US 5-20 which is truly short but with amazing glass, fell in love with that scope right away but wasn't too thrilled with the reticle. Part of what I like about ultra shorts is the magnification range as well as the weight as compared to their full size cousins, I've put a personal limit on my scopes not to go over 35oz because of the application mentioned above and most ultra shorts fall within this range. Those are my credentials for what it's worth, I have been doing reviews of scopes for a number of years now but don't pretend to have any special insight in evaluating scopes other than my experience and what my eyes tell me (though I admit my eyes are getting older which makes using better glass that much better).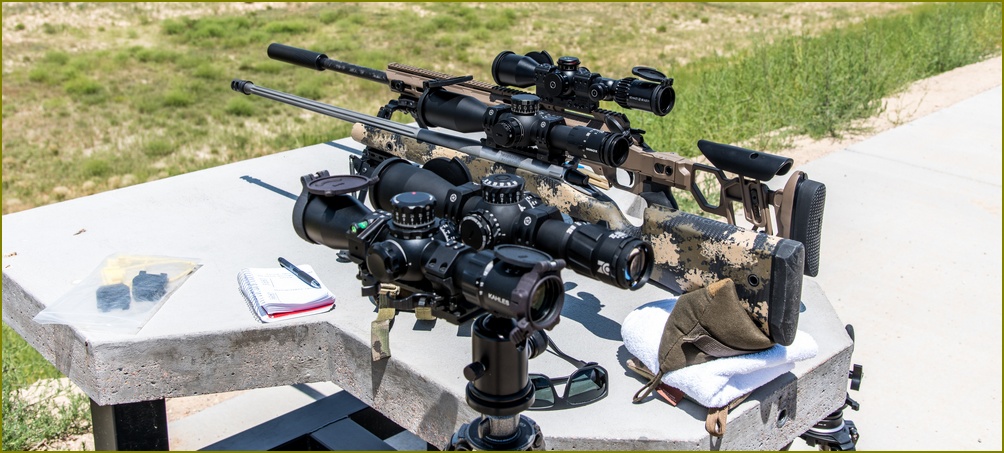 EDIT: What is an Ultra Short
Part of this information I have gleaned from ILya's
article on Ulta Shorts
, but have added an additional qualification for max magnification. The phrase "Ultra Short" was originally coined by S&B first with their 5-20 then with their 3-20 (but they were not the first to build a short design). In principle, how short you can make a scope is a function of how large the objective and ocular lenses are. The larger they are, the harder it is to make a scope short. Also, keep in mind that short does not have to mean light (and light can be subjective). With that in mind, here are my qualifications for what overall scope length, based on objective size as well as magnification are what I deem to be an Ultra Short long range scope:
Greater than 50mm Objective with 18x or greater max magnification: Under 15″
40 to 50mm Objective with 18x or greater max magnification: Under 14″
While not a requirement for Ultra Short, my personal preference is that the scopes be kept at 35oz or less.
The Scopes
One might ask, why didn't I include some other Ultra Shorts and there is one reason - I wanted to stick with alpha class (sorry Leupold Mark 5HD and others, you simply aren't there). Why did I include the Minox ZP5 5-25x56 and 3-15x50 – very simply the ZP5 5-25x56 reigns as the best scope I've ever looked through (I have not experienced Tangent Theta, but I have experienced Premier and all three are sisters when it comes to the original design by Optronika) and the ZP5 3-15x50 represents the closest we had access to that would be close to the venerable TT315 series, that being said, I tend to view "Ultra Short" designs as having magnification greater than 16x but in a tube shorter than traditional scopes of the same magnification so we use the Minox ZP5's as more of a baseline here.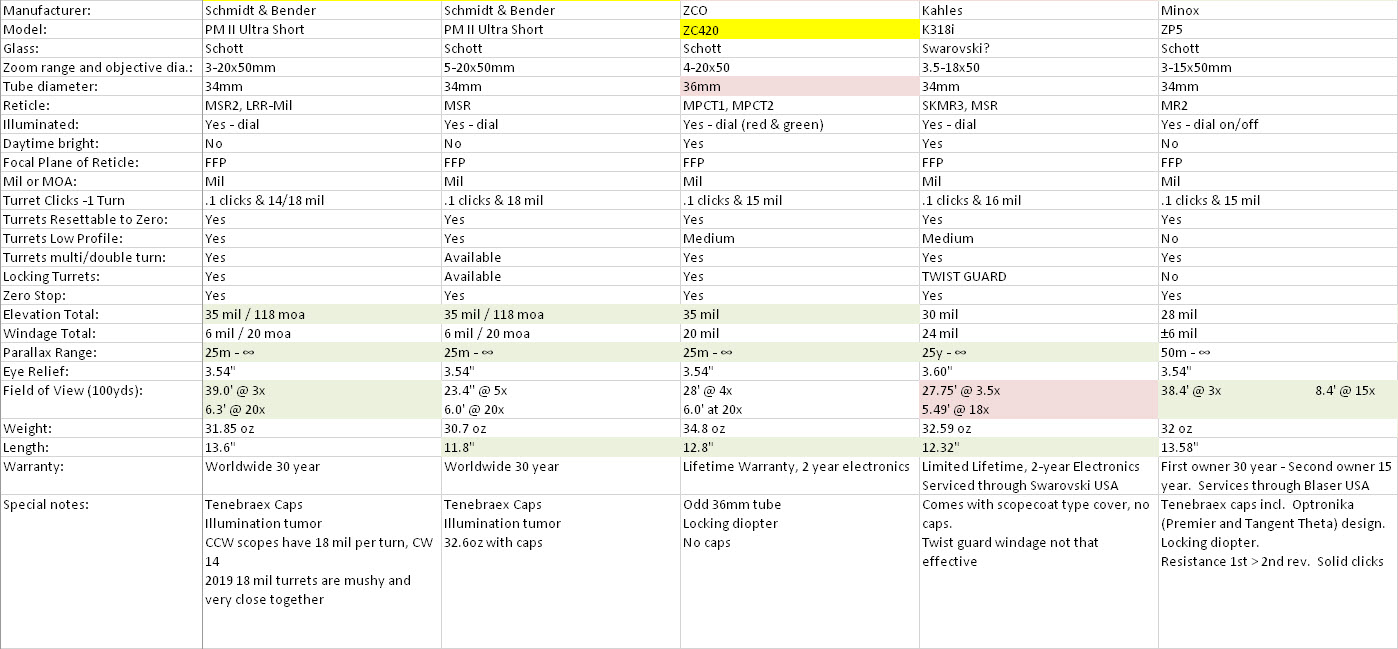 The Purpose
The purpose of this evaluation is not to give you any kind of "long term" results but simply to identify "initial impressions" of areas that are sometimes identified in spec sheets like the one above, but often times there are features to scopes that simply have no spec but do make a difference for the discerning long range shooter. The ultimate goal was to evaluate the brand new ZCO ZC420 that has just begun to hit the market, essentially, does the ZCO live up to its hype – "Zero Compromise Optic" and can this new manufacturer really put out a scope worthy of being considered "alpha" quality. Well that's exactly the question that we set out to answer, and when I say we I'd like to give a huge shout out to
@jwknutson17
who was kind enough to join me at my 1000 yard range and bring some scopes with him, it was great to put some rounds down range and have fun with optics, I also typically do these evaluations alone and rely on only my eyes so it was nice to have a second set of eyes and see if we both agreed (which you'll find below, we sometimes didn't).
Diopter Adjustment
A quick note before we get started, in order to perform any kind of optical evaluation with riflescopes it is of utmost importance that you set your diopter correctly. During CA testing I noticed the Minox ZP5 3-15 reticle was all over the place (indicating parallax was way off) but what it turned out to be is this was a brand new scope that had not yet been adjusted and we found the diopter dialed all the way out, once we dialed in the diopter the parallax/reticle was rock solid. There is a lot of "recommendations" from manufacturer's and from the community on setting diopters, but I must admit this is one of the trickiest (and yet one of the most important) procedures to get right, so I highly recommend you spend some time understanding how to properly set your diopter.
Here is my recommendation, but I don't take all the credit, much of this comes from advice provided by hk dave, ILya and my eye doctor:
Initial setup: Loosen the lock ring in front of the eyepiece (if it has a lock ring) and while looking at a blank wall or the sky, rotate the eyepiece several turns counterclockwise (in the positive + direction) until the reticle is visibly out of focus. Then turn back clockwise until the reticle is focused as sharply as possible (but be careful not to go too far; however, when doing so be sure you are not staring through scope while turning back clockwise, you should glance through the scope for no more than a few seconds then stare out into the distance while making a small adjustment and then glance back – do this until the center and the edge of the reticle appear sharp.
Fine tuning: Find a target that is very far away, so that it looks sharpest when the side focus is at the infinity setting. As you look through the scope (important that it remains steady) you can mess with the diopter by making minute adjustments either CW/CCW and see if the reticle and/or image improves any. You can also check parallax to ensure that small head movements don't close the POA to shift.
Closeup tuning: Now find a target that is closeup, say 100 yards away, set your side focus until the object comes into best focus, does the reticle still look sharp? Check parallax to make sure there is no shift.
Once you've performed the above 3 steps you should be set with your scope, it might be wise to mark your ocular and the scope tube with a pen or marker (especially if you don't have a locking diopter) so you can return to this position if your scope is ever bumped out of alignment.
Ergonomics and Mechanics
I define ergonomics of a riflescope as the overall fit and finish along with how easily accessible certain features are. I define mechanics of a riflescope as the "feel" of certain controls and their usability and repeatability. Older versions of the Schmidt & Bender low profile Ultra Short turrets had too much resistance with MTC and would cause over travel by sometimes .2 mil, new 2019 18 mil turrets were too mushy for my taste and provided very little tactile/audible feedback, the 14 mil turrets have much better tactile/audible feedback and some 18 mil versions are better, I am still bothered by the big illumination tumor and wish Schmidt would come out with a PMIII version with illumination next to parallax like most other mfr's have adopted. ZCO had the best overall tactile/audible feedback but the Kahles and Minox were not far behind. Keep in mind I am not a turret purest, unless a turret is really bad I have no issues getting by with it. The locking turrets on the ZCO have the best resistance I have experienced, Schmidt is not bad and neither is AMG but ZCO seems "just right". Keep in mind that ergo and mechanics can be very much subjective and will be based on the user and their preferences/biases.
Ergo and Mechanics rankings: ZCO ZC420 4-20x50 > Minox ZP5 3-15x50 >= Kahles K318i 3.5-18x50 > Schmidt US 3-20x50 >= Schmidt US 5-20x50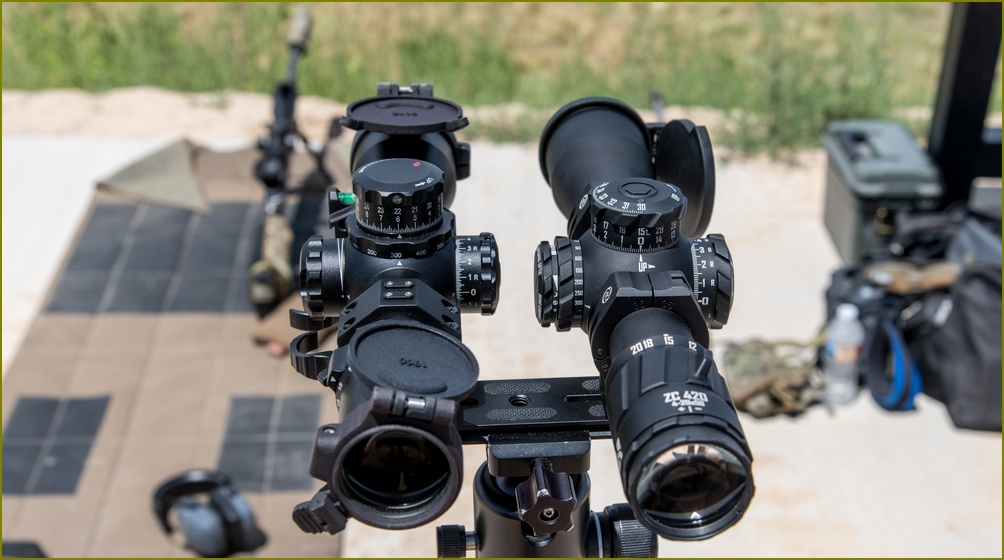 That dreaded CA
Some of you are thinking "why so down on California?", but while I have my issues with California (I grew up there) what I mean by CA is Chromatic Aberration. For those who still may not know what this is I recommend you look it up, or better yet just follow this link to a great explanation -
https://photographylife.com/what-is-chromatic-aberration
. We can argue "'til the cows come home" on whether or not CA has a negative effect on the usefulness of a riflescope, after all, we are not taking pictures through our scopes (well… actually I am, but only for this review), put plain a simple - CA bothers some people more than others (and if you haven't noticed CA in your scope I'd recommend you not try to find it). Will CA cause you to miss a target? Doubtful, but it does have an effect on micro contrast as well as scotopic vision when the light gets low that could, in fact, degrade image quality (IQ), and let's face it, when we are paying this much money ($3000+ for all these scopes) we are expecting to get the utmost in IQ. Because CA does bother me, especially in high end optics it is something I look for and evaluate. I did a review of the Kahles K624i Gen III when it was first introduced and I soon realized that scope performed very poorly when it came to CA, so much so that it affected the low light performance when I was comparing to other scopes with smaller objectives, and if there was any hint of snow on the ground (I live in Colorado) the annoying purple fringe was all over the place.
CA usually rears its ugly head the most with high contrast situations so having something white with a dark background will usually induce CA more than say green grass in front of brown dirt, but as previously mentioned CA can affect IQ even when you don't "see it". For those who still may be missing the concept here, take a look at the below image showing what CA looks like (Note: This is not from a scope within this test):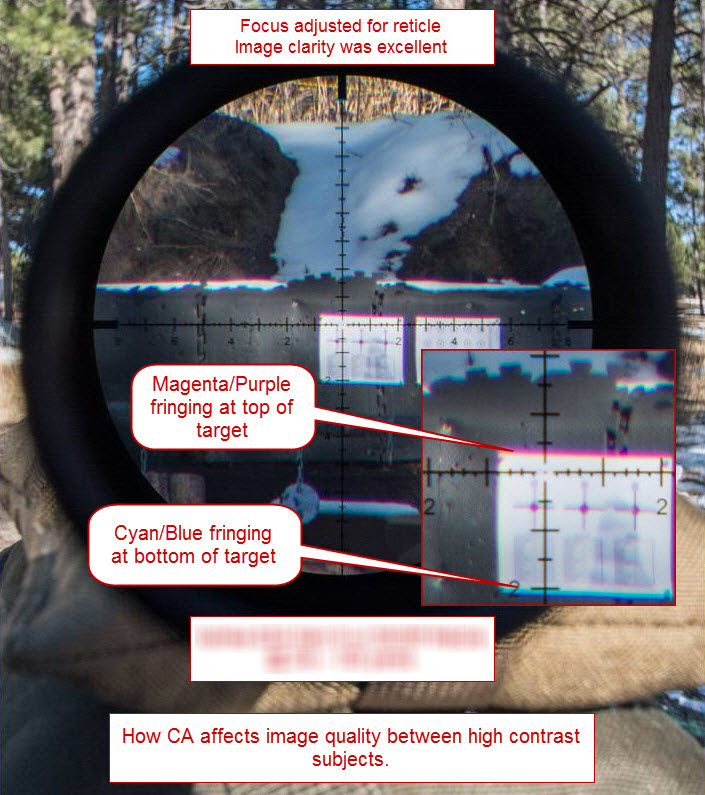 Enough background, let's get down to how these scopes performed. I will preface the results by saying this – all of these scopes performed extremely well when it comes to controlling CA, I have seen much worse scopes, and ultra short designs prove to be a challenge for the optical engineer to create an optical formula that is going to perform similar to that from a more traditional (longer) scope. I would be perfectly happy with the CA performance of any of these scopes, but that being said, this is an evaluation, so let me share my thoughts along with some through the scope images.
Speaking of "through the scope" images, I will give my typical disclaimer: DO NOT USE THESE IMAGES as an indicator of the IQ of any of these scopes (in fact, don't use any image on the internet to do so), riflescopes are designed for the human eye, they are not designed for a camera sensor and as such if I do not hand hold the camera perfectly you may begin to see optical aberrations in the resulting images, these are NOT indicative of the scopes design but of my own shakiness and/or misalignment. Also, do not use these images to judge how bright or dark a particular scope is, while I set my camera to manual, I forgot to set the ISO to manual and with different overhead conditions (clouds coming in and out, etc.) the resulting image may have compensated, I assure you all these scopes appeared very bright.
Did we see some CA through these scopes, the answer is yes but it wasn't "in your face" as some scopes exhibit. Now let me make another disclaimer: Images taken through a riflescope using another optical system (like a camera and lens) are not an "accurate" representation of what you see with the naked eye. So, don't take images you find here or on the internet and immediately discard any particular scope because you see a heavy purple fringe along the edge, because CA is compounded by the fact that the camera lens also exhibits CA and if you are not perfectly centered to the scope, being offset might induce more CA than usual.
To my eyes, both Schmidt & Bender's seemed to have the most apparent CA of the bunch, followed by the Kahles K318i which seemed very close to the Minox ZP5 3-15 but the surprise was the ZCO ZC420 which showed very minimal CA, and if we're nitpicking (which I am) I felt the ZP5 5-25x56 was still the best overall, that being said the ZC420 being an Ultra Short design was very impressive that it bested all the rest and came very close to the traditional design on the 5-25.
CA Rankings (including ZP5 5-25 as baseline): Minox ZP5 5-25x56 > ZCO ZC420 4-20x50 > Minox ZP5 3-15x50 >= Kahles K318i 3.5-18x50 > Schmidt US 3-20x50 >= Schmidt US 5-20x50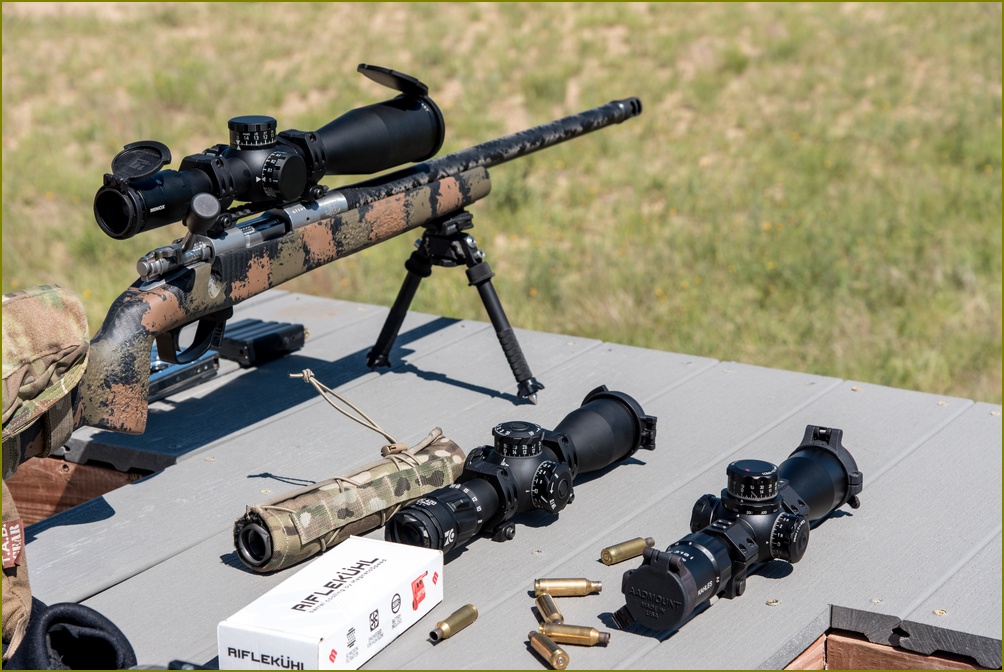 Last edited: