Sergeant of the Hide
Full Member
Minuteman
So not trying to pick fights or start wars, but I am trying to objectively understand what the differences are. If I have my dimensions correct (if not correct me please), everything is so close, that you can almost fire one round in the other's chamber (I am not condoning this, its a bad idea, but you get the point).
A little backstory, I was looking for my next big 30 magnum and came across the 30 Sherman magnum. Seeing at it was a AI version of a 300 PRC, for which factory 300 PRC ammo shoots great in its chamber, I started my journey of reading all the different forums on it. I saw that its H20 capacity was similar to 30 nosler as well as MV with similar brass/bullets/barrel lengths, so I started looking for the differences to see which one made more since for me. Note: I will have a barrel spun up and I reload, so no need to bring in the factory rifle crowd.
I found the SAAMI specs drawing of the 30 Nosler on Quickload as well as the 30 Sherman Magnum's drawing on Gordon's Reloading Tool (neither program one had the other's cartridge so couldn't do a proper comparison of loads in the programs). Here are the images.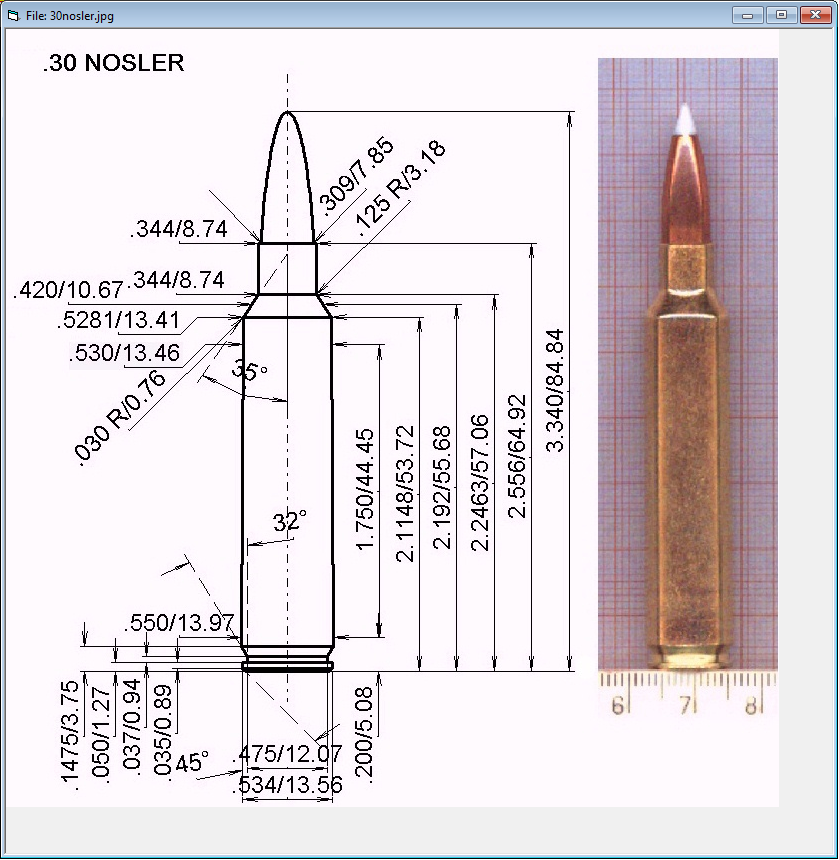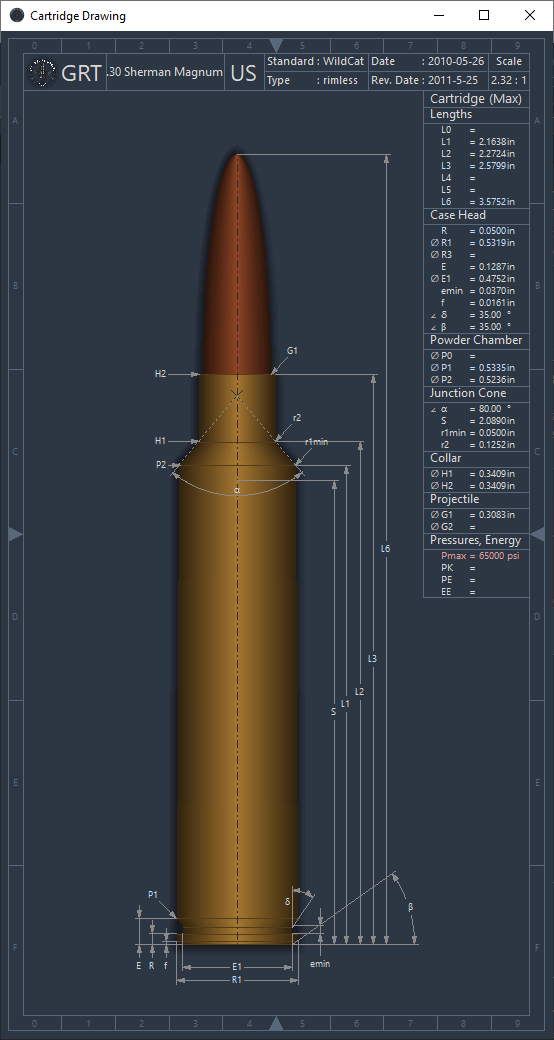 First of all, does anyone with experience not agree with these dimensions? If so, no need to read the next paragraph...
If not, what I found was they both have a magnum bases (.534"). 30 Nos is slightly rebated with a base diameter of .550" and 30 SM stays at 0.534". The Nos has a little more taper but due to the wider base and shorter case/shoulder junction, the Nos has about the same case diameter at the shoulder - 0.004" larger ( 0.528" vs 0.524"). The case/shoulder junction occurs at 2.115" for the Nos and 2.164" for the SM (so 0.050" difference) but with the 35 degrees (Nos) vs the 40 degrees (SM), the neck shoulder junction is closer to each other at at 2.246" vs 2.272" (Nos vs SM), a 0.026" difference. The SM also has a 0.024" longer neck so the SM has a case length that is ~ 0.050" longer. Throw all this into the regonculator and they have the same case capacity, and for the same bullet they are within 0.050" in COAL (for example, a properly seated 215 Hybrid is just above 3.600" for Nosler - just choose jump to get your needed freebore).
I know the standard 30 SM reamers have a nominal freebore setup for the heavier bullets so a 215 Hybrid will be higher in the neck and COAL will be up around 3.700+", but you can get the Nosler freebore'ed to do the same. I am just now figuring out that all of these cartridges are the same if you get to choose your freebore? Am I overlooking something or not giving something enough credit/weight?
So my question to all - does everybody agree that if I hand you two rifles (one chambered in each), that you could not load one better than the other, know which one you were firing if given to you blind, or even giving you one round of each could you tell me which is which (no peeking at the headstamp)?
Last request - there has to be at least 1 hide member that has both of these. Can you please post a picture of the two side by side and do not label them? I have seen 300 PRC vs 30 SM and 300 PRC vs 30 Nos but not 30 SM vs 30 Nos. I would like to see if there is truly a discernable difference.
PS: I have read most of the posts on 30 SM, not looking for quip remarks, but rather looking to have an objective conversation.