Luchador
PX Member
Minuteman
So I know this is basically pointless since Im only forming brass for another 120 rounds with this but still gives me my entertainment. False shoulder plus a healthy bullet jam. Even the lowest loads are giving me brass to the same blow length so Im not too concerned about that issue.
Lapua, cci 450, 105 ref, varget
Im blaming the fliers on the brass forming, I never had fliers 2 mils out with them jumping in my xc. That said there are a handful of crazy bad fliers.
It had 100 rounds on the barrel before I started and last weekend it was around 80 degrees and I got these results at 100 yards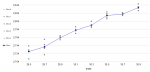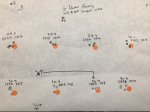 And this weekend it was around 65 and I got these results at 500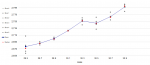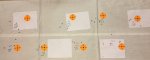 Its interesting that the velocities dropped that much with just a few degrees.
I think Im going to go with 29.9 for the rest of my 300.