Incognito
Full Member
Minuteman
I have performed the first initial test using some Black Hills 220 grain OTM.
New build with 10.5 inch barrel
This is a Ti tube/Ti end cap, stainless cone baffle build (6 baffles) bore of can is around 0.360 inches throughout.
Test session was extremely short and I did NOT have my magneetospeed to verify MV.
The cones only had the bore hole at time of testing.
I fired 2 NON suppressed rounds to check function and both fired but failed to eject.
Then fired 2 suppressed rounds with this form 1 build and it was MUCH louder than anticipated but rounds ejected fine. (Adjustable gas block installed just have played with it yet, Law Gen3 folder and JP SCS with standard weights)
I have since gone back and added some ports on the baffles ( 8 holes on blast baffle....then 6 holes for next 2 baffles, then 4 holes, 3 holes, then none on last baffle).
I have not had another chance to test.
Basically I am wanting feedback to see what your thoughts are on the possibility of subs actually being quiet with only having 6 inches of real estate and 6 baffles.......
Is it possible this Black Hills 220 grain OTM is actually supersonic out of a 10.5 inch barrel?
I have my magneetospeed and will verify but range time is super limited as well as the ammo (and EXPENSIVE) and I'm not set up to reload yet for .300 BO
After ports added, muzzle on right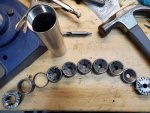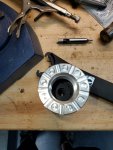 Before ports added (muzzle left)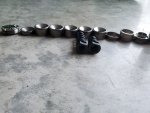 Last edited: