by request
Australian Outback 69 grain Sierra MatchKing Ammunition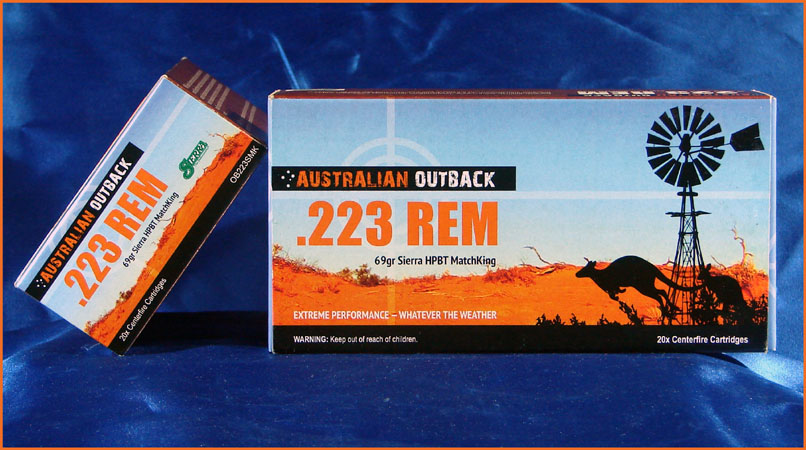 Today, several manufacturers are producing factory loaded 223 Remington ammunition seated with the Sierra 69 grain MatchKing. Among those, is Australian Outback, a commercial division of Australian Munitions.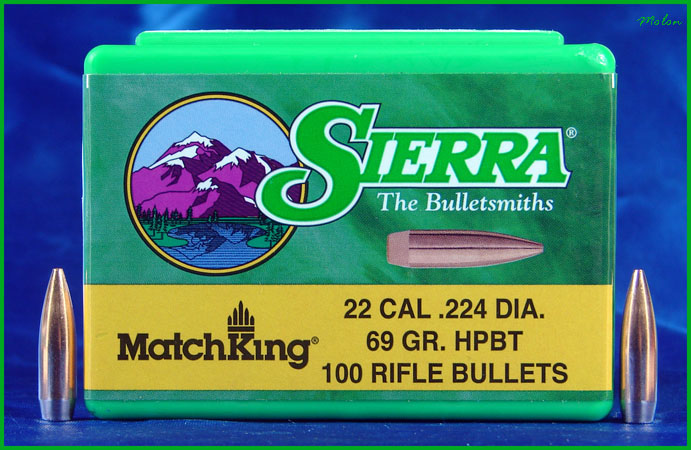 This Australian Outback ammunition is loaded in brass cases. The primer pockets are neither crimped nor sealed. There is no sealant at the case-mouth nor any visible case-mouth crimp. The rounds are charged with a short-cut, extruded powder. The head-stamp reads:
"223 REM ADI"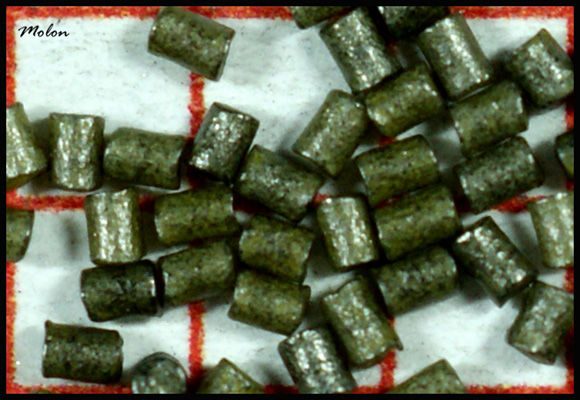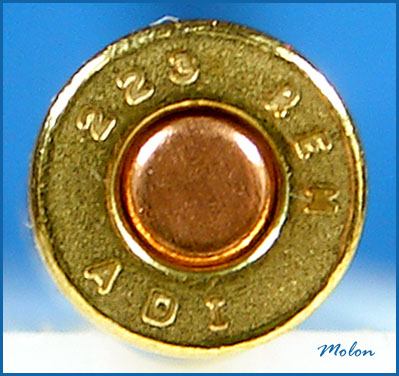 Through some simple testing, I determined that the 69 grain MatchKing has a specific gravity of approximately 10.2. According to Ballistic Performance of Rifle Bullets by Bryan Litz, the 69 grain MatchKing has an average G1 ballistic coefficient of 0.330 and an average G7 ballistic coefficient of 0.169. The same source states that the "recommended twist for optimal performance" of the 69 grain MatchKing "is 1:9.5" or faster."
Accuracy
I conducted an accuracy (technically, precision) evaluation of the Australian Outback 69 grain Sierra MatchKing ammunition following my usual protocol. This accuracy evaluation used statistically significant shot-group sizes and every single shot in a fired group was included in the measurements. There was absolutely no use of any group-reduction techniques (e.g. fliers, target movement, Butterfly Shots).

The shooting set-up will be described in detail below. As many of the significant variables as was practicable were controlled for. Also, a control group was fired from the test-rifle used in the evaluation using match-grade, hand-loaded ammunition; in order to demonstrate the capability of the barrel. Pictures of shot-groups are posted for documentation.

All shooting was conducted from a concrete bench-rest from a distance of 100 yards (confirmed with a laser rangefinder.) The barrel used in the evaluation was free-floated. The free-float handguards of the rifle rested in a Sinclair Windage Benchrest, while the stock of the rifle rested in a Protektor bunny-ear rear bag. The SMOS billet lower receiver used houses a Geissele Hi-Speed National Match trigger.

Sighting was accomplished via a Leupold Competition Series 45x45mm scope adjusted to be parallax-free at 100 yards. A mirage shield was used. Wind conditions on the shooting range were continuously monitored using a Wind Probe. The set-up was very similar to that pictured below.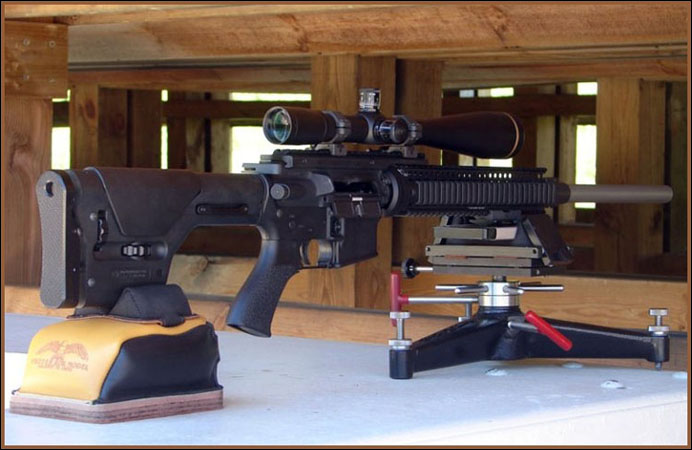 The Wind Probe.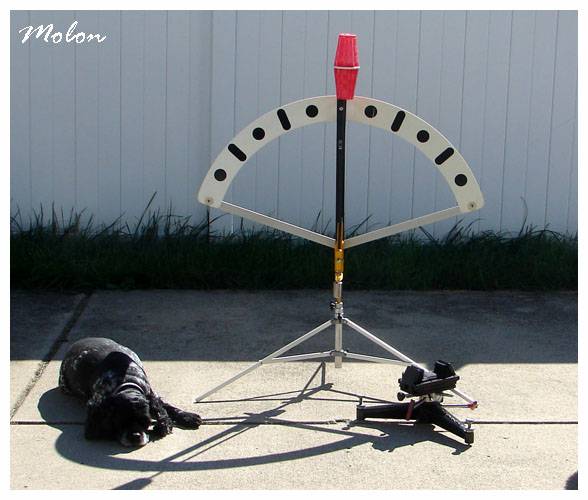 The test vehicle for this accuracy evaluation was one of my semi-automatic precision AR-15s with a 24" Krieger barrel. The barrel has a 5.56mm Match chamber with a 1:7.7" twist. Prior to firing the Australian Outback 69 grain Sierra MatchKing ammunition, I fired a 10-shot control group using match-grade hand-loads topped with the Sierra 55 grain BlitzKing. That group had an extreme spread of 0.67".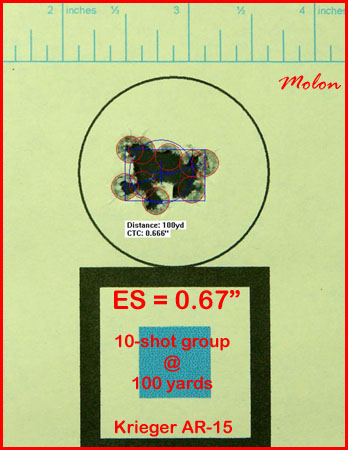 Four 10-shot groups of the Australian Outback 69 grain Sierra MatchKing ammunition were fired in a row with the resulting extreme spreads:

0.95"
0.82"
0.69"
0.97

for a 10-shot group average extreme spread of 0.86". The four 10-shot groups were over-layed on each other using RSI Shooting Lab to form a 40-shot composite group. The mean radius for the 40-shot composite group was 0.28".



The smallest 10-shot group . . .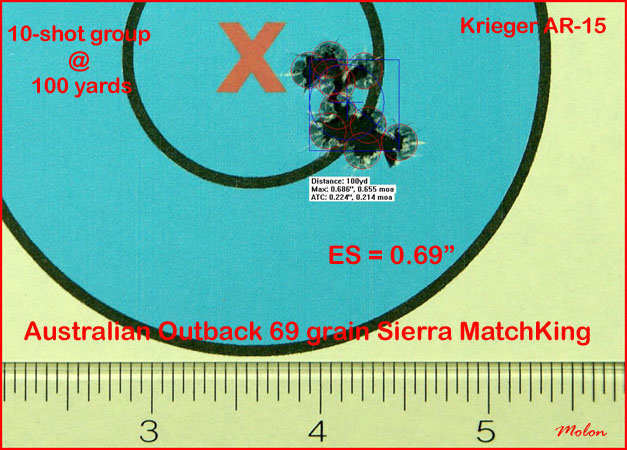 The 40-shot composite group . . .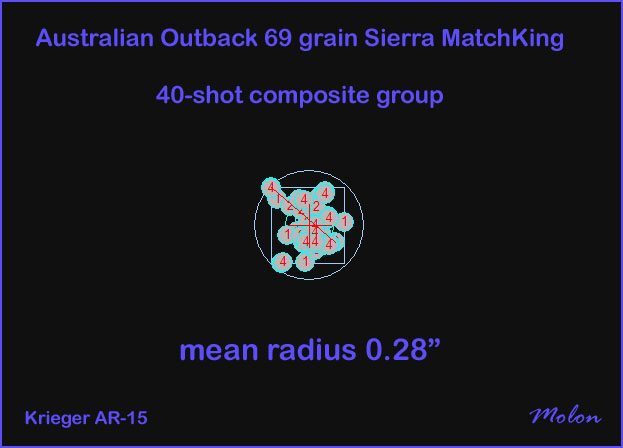 For kicks and giggles I also fired some 5-shot groups with this ammunition. The cherry-picked group of the bunch had an extreme spread of 0.384".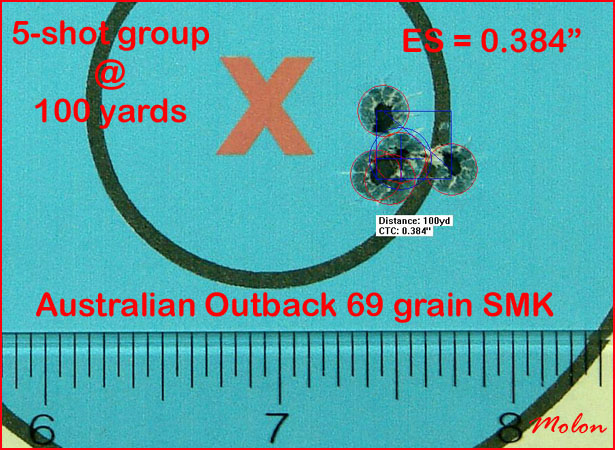 ....
Australian Outback 55 Grain Sierra BlitzKing Ammunition
The Sierra 55 grain BlitzKing was introduced in 1999. While it was marketed as a varmint bullet, I soon discovered that this projectile was capable of delivering outstanding precision when fired from my semi-automatic AR-15s at shorter distances.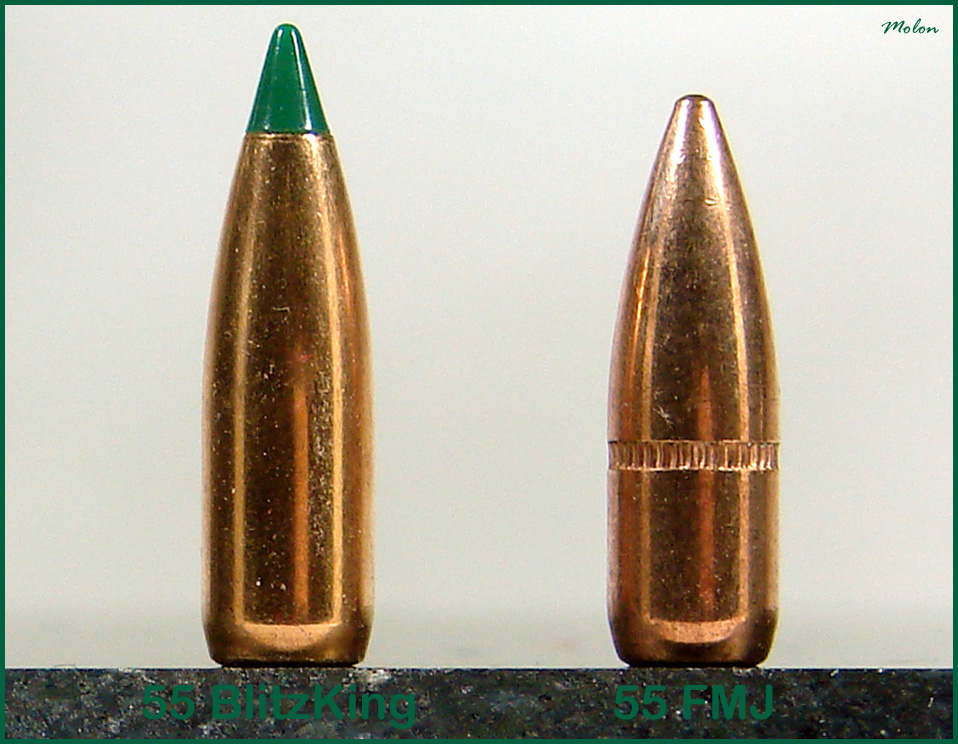 By the spring of 2000, I was using a handload topped with this bullet as one of my primary loads for evaluating the accuracy/precision of AR-15 barrels. These handloads have shot well in almost every AR-15 barrel that I have owned over the last two decades. When fired from my Krieger barreled AR-15s, these handloads have produced 1/2 MOA 10-shot groups at 100 yards.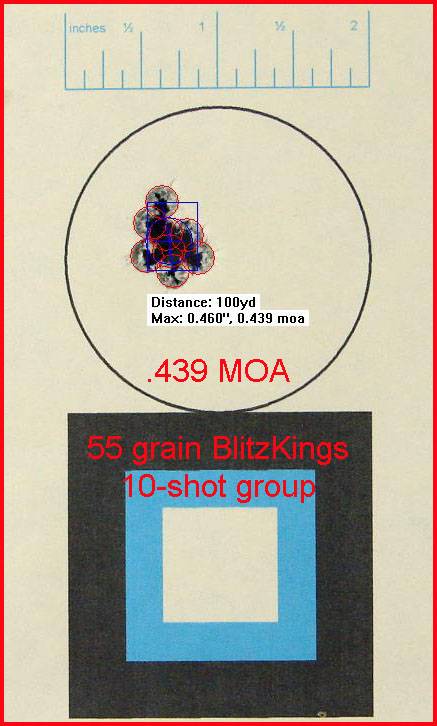 In addition to the 69 grain Sierra MatchKing load evaluated above, Australian Munitions, under their Australian Outback division, has produced a factory load for the commercial market using the Sierra 55 grain BlitzKing.
When chronographed from a 20" Colt M16A2 barrel over an Oehler 35-P chronograph with "Proof Screen Technology", the Australian Outback Sierra 55 grain BlitzKing load had a muzzle velocity of 2972 FPS with a standard deviation of 20 FPS.
A 10-shot group fired off the bench at a distance of 100 yards from one of my AR-15s with a Krieger barrel that has a 223 Remington chamber and a 1:9" twist had an extreme spread of 0.98".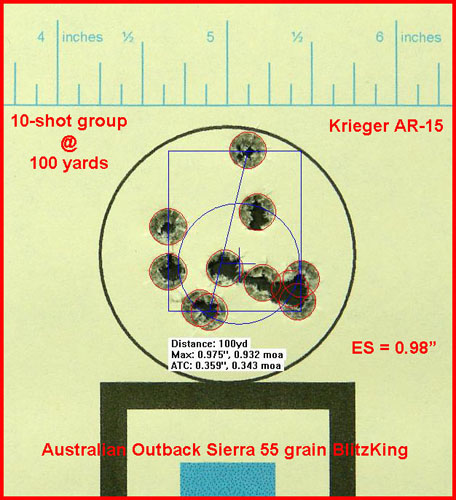 I also fired a 10-shot group of the Australian Outback load from one of my AR-15s with a Krieger barrel that has a 5.56mm match chamber and a 1:7.7" twist. That group had an extreme spread of 0.92".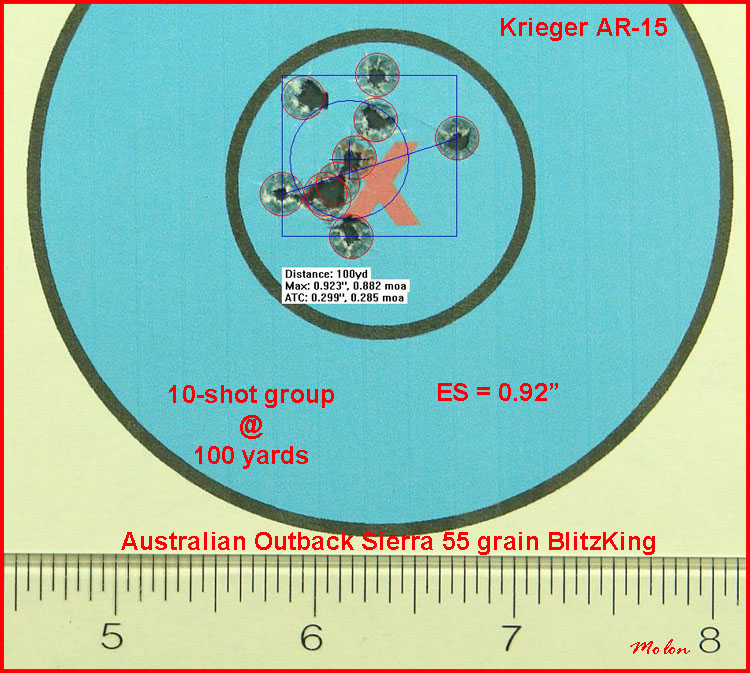 .....
Last edited: