I'm newer to this game and I strive to be student of my efforts - I shoot, I think about what I'm doing, I read, I ask questions, I watch youtube videos, I go shoot some more. I've been shooting my T3x varmint 223 for several months and have finally had a realization that my cheap .223 ammo is part of my problem. I know many of you will chuckle or roll your eyes, but I've been feeding my rifle Wolf Gold and Remington .223, both in 55gr. My groups look something like this at 100 yards with no wind.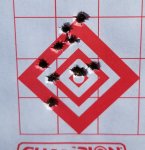 I thought I was having accuracy issues and the student in me was trying to figure out what I was doing wrong after each shot due to the lack of consistency. That frustration has driven me to do a lot of reading and researching on proper technique. On my last trip to the range, I took my new T3x varmint in 6.5 CR and after shooting the target shown above, shot the 2 below with some not-so-expensive S&B 140gr rounds. The first is 6 shots, the second is 10 shots. After seeing these groups, I concluded that I probably wasn't having an accuracy issue with my .223, rather a precision issue due to my cheap/crappy ammo.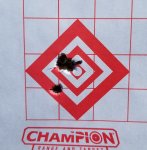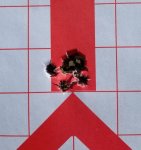 All of this is to say that I'm open to suggestions for "better" .223 ammo. I've got some AR's, so burning through my cheap .223 ammo will not be an issue.
I am open to feedback and discussion, and I see my options including the following:
1. Keep shooting this ammo. Maybe some of you will look at the top target and tell me I can do better with Wolf Gold. If that is the case, I'm open to hearing that.
2. Find a "better" mid-priced 223 round, preferably in the sub $.75/round range. As demonstrated by the 6.5CR targets, I feel like I can do better with "better" .223 ammo, but I'm not sure I need to get the ultra top shelf stuff at this point.
3. Admit to myself that I was going to reload eventually and purchase a setup for that (if I did this, I'd like to reload for 9mm, .223, and 6.5CR on the same machine). I already have progressive reloaders for 12ga/20ga/28ga, so I'm not new to reloading, I just haven't done it for metallic cartridges before.