Desert hunter
Full Member
Minuteman
We all know donuts are a real pain to deal with. Have tried to summarize what (little) i know about the topic, and curious to learn what tricks you guys have tried!
Detecting donuts: Have recently tried gauge pins to feel for a donut, and it works pretty well. Some cases get donuts earlier than others, for some weird reason. A regular inspection every 5 firings is probably a good idea. Btw: You just need 3-4 gauge pins, and they are very cheap ($3-$5), worth getting. Or get a full set for like $70.
Have tried to deal with donuts in multiple ways, like neck turning slightly into the shoulder, or using bushing dies which does not resize that part of the neck, like a Redding Type S followed by a mandrel die in a standard press, or an LE Wilson neck sizer die using an arbor press, followed by a small base die in the large press.
Neck turning: The theory is that post firing, that gap you cut on the outside will move to the inside of the case, and you will have a "negative" donut, csing a slightly thinning of the neck-shoulder junction, which can absorb any brass growth in that area. Does not really work like that: After every firing and FL sizing step, the brass has stretched and the case gets 2-7 thou longer (also every case has somewhat different length), and that gap moves forward of the neck shoulder junction a few thou every firing. A donut eventually appears behind the gap you created. Maybe it helps for the first 4-6 firing, but i doubt it is a real solution to the problem.
Neck sizing avoids the case stretch, and maybe/probably slows down donut growth, but before long your bolt won't close or the bolt "clicks" when you try to exteact a fired round (bad sign). So not really a longterm solution either. You could potentially neck size twice and then full length after third firing, but speed will be a little different, so you might need to tweak your powder charge (two loads) to stay in the node. Have not tried this.
Have an LE Wilson lathe type cutter that i used for trimming cases to length. Nice kit, but pricey. You can also buy an inside reamer from them. Have used it on brass after 10 firings and again after 20 firings, but it makes the inside of the neck a little rough post cutting. You can polish the turning marks out with fine steel wool imbedded in a bronze brush and a high speed drill. Extra work and your AMP machine hates magnetic material that finds its way inside. Makes the anneal inaccurate, and interferes with the operation of the machine. I also found that springback is not the same close to the case mouth and near the neck shoulder junction. The Lapua grain structure is intentionally varied from from neck to the case head, the Finns getting all clever and sophisticated on us. I suspects that contributes to the springback differences. Result is that the inside neack reamer takes more material off near the case mouth, and the brass thickness is not the same afterwards, as post neck turning. It does cut out most (but not all) of the donut, which obviously helps. But 5 firings later a small donut has formed again in the same spot, and the donut you cut back previously has just moved forward…. [Maybe I should do inside neck reaming more frequently than i do now, but it is a real PITA, and it has undesirable side effects that move your neck thickness and bullet grip. Maybe the long case life of Lapua SRP brass has some negatives too?]
The K&M carbide neck turning tool plus mandrel also helps: It has a carbide cutter on the tip of the mandrel and a carbide blade on the outside cutting the neck to a smaller diameter. You turn the outside of the neck, and cut the donut on the inside, all at the same time. Works well enough, but a small portion of the donut remains.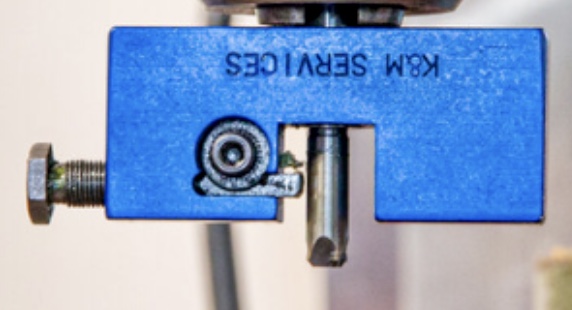 I just load the bullets long, with fairly small jump, and keep the pressure ring (thicker part close to the boat tail, for better gas sealing) well above the donut area. That initially limits your bullet choices. Trade-offs everywhere! I wait for the lands to move forward (typically when i get past 1,000 rounds on the latest barrel), then i switch from 140 gn to 147 and eventually to 156 gn bullets. Seems to work better.
I know some competitors buy new Lapua brass, use it once, and then sell it for like 70% of the new price. That is probably the only solid way to avoid donuts. Pass the problem on to somebody else who has more patience!
Hope this helps…
Last edited: