Private
Supporter
Full Member
Minuteman
8Aug22- I chose a Geissle 05-405B mount.
All,
I picked up a Vortex CM-534 34mm 0moa cantilever mount to drop an ATACR 4-16X42 into. Now that it's installed, I see that I could get by with less cantilever than the 3.5" that this mount provides. I also wouldn't need the rear ring sitting over the front crossbolt which currently sits four pic slots back from the front of the lower receiver. The scope is where it needs to be for me and the turrets overlap ~30% over the front of the lower.
I am open to recommendations &/or suggestions and would also welcome any pictures that might be available.
I don't have any local businesses that stock a good variety of this style mount for comparision so any help is appreciated.
Thanks,
Keith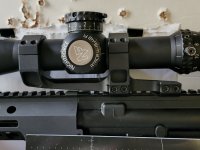 Last edited: