Golden Shellback
Belligerents
Minuteman
Some miscellaneous parts for sell, All prices are OBO to the lower 48.
Used (100rds) but in great condition American Precision Arms GEN2 Little Bastard 6.5 5/8x24. $145+ shipping
BNIB BCM KeyMod Very Grip. $15+shipping
Magpul 3" Pic Rail KeyMod
$10.00+shipping SPF
BNIB LaRue AR10 APEG $10.00+shipping SPF
BNIB Vortex 34MM X High 1.26" $120.00+shipping
Sorry no PayPal,... Venmo, Cash App, MO, personal check please.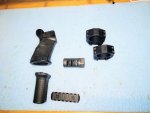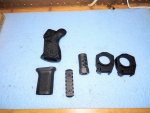 Last edited: