Private
Belligerents
Minuteman
I have 3 left hand Renegade stocks and I'm very happy with them so far. Today while trying to figure out some accuracy issues with one of my rifles I noticed that when I shot it sounded and felt weird.
Upon further inspection I found a crack in the stock from the bolt cutout down to the bottom metal.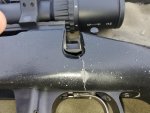 So, needless to say this stock is now broken. I emailed Grayboe today (I know they are closed), and included a picture of the crack. I'll wait for a response from Grayboe but in the meantime, has anyone had this type of thing happen or dealt with their customer service dept. in regards to a failed product?