I was reasonable until forced to be unreasonable
Supporter
PX Member
PX Member
Minuteman
Looking to move some gear I'm not using.
All prices are shipped to conus.
Everything is in working order, lightly used or as new.
Top Row
Protektor bubble bee bag, 1" leather bottom, ships empty unless discussed, $100 SPF
Spotting scope cover for Leupold MK4, black, never used, $30
Diamondback 10" handguard and barrel nut, uses GI wrench for nut, comes with one 3" pic rail section, $40 SPF
Protektor 14B bag, tall, ships empty unless discussed, $75
Middle
Sawtooth 9.27" deluxe arca rail with removable pic section, $100 SPF
Sawtooth 9.20" arca rail for keylock, $80 SPF
Barrett 30cal self timing brake 5/8-24, new take off from MRAD rifle, $65 SPF
PVA Mad Scientist SS 30cal self timing brake 5/8-24, used for 100-125 rounds, $85 SPF
BT AI Spigot Mount with pic rail, $65
Caldwell 6-9" bipod, Harris SBRM clone, never used, $40 SPF
Bottom Row
Picatinny bag rider for 3" forend, $30 SPF
R700 X-Mark Trigger, 1.5lb tuned by GAP, right safety bottom bolt release, $50 SPF
Bob Sled AICS pattern, used once or twice, $50 SPF
Gemini scale, accurate to 0.1gr verified by FX120i, takes AAA batteries, $30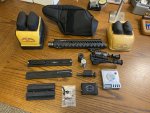 Newly Added Items
Mueller 8-32x44 Fine Duplex Target Dot, $200 with Seekins low SPF
Surefire SFMB762-5/8-24 Muzzle Brake, used for 200 or so rounds, $80
308 Die Set, Redding Ultra Micrometer Seater, RCBS FL non bushing, RCBS std Seater, used under 50rds
308 Hornady Match Grade Neck Die w/ .330 bushing, used under 30rds
All 308 dies for $175
Berger 155.5 Fullbore 30cal, never opened, 100ct, $40
Sinclair 3" Bag Rider, bipod stud mounting, for hunting style stocks, requires no permanent mods, never used, $35 SPF
Sinclair 3" Bag Rider, anschutz/freeland and picatinny mounting, new never used, $60 SPF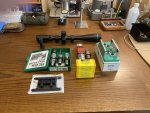 If interested in multiple items, will bundle to save on shipping.
Payment will be PayPal F/F or G/S add 4%.
Tracking will be provided after shipping.
Detailed pics of items available by request. Thank you for taking the time to look.
Last edited: