Supporter
Supporter
Full Member
Minuteman
Full disclaimer: I'm a regular dude with a regular job who doesn't get paid jack shit for my opinions on guns or gear, unless someone wanted to holllllaaa at them PMs because the oilfield is looking as promising as a ticket to the titanic right now. My intention is to write down my thoughts and experiences with the halo 25 as I use it because in my opinion, mind you it's a free opinion, it's a pretty good optic for the spend. The reality of the situation is I'll update this as I have time and make hunts, so buckle up for infrequent poorly written post.
How in the hell did you wind up with the 25?
I've been on alot of hunts and used alot of different optics at one point in time I have owned or used the following: flir pts 233, pts, 536, pulsar n750 (junk), pulsar thermal (I think it was a XQ 38 but the nomenclature confuses the shit out of me), mk3 60, reap 35 and halo lr. I would say as a commercial user I've used a pretty wide selection of gear from good to trash. Prior to the bottom falling out of oil we've taken clients out with outfitters who ran the mk3 60mm and the halo lr. Being around those units really got me itching for a nice thermal. I have access to some large rice and turf farms in South Texas and I figured stepping up to a nicer thermal would make hunting those properties into a good past time. So I started researching this until my eyes bled and I came to the conclusion that the halo lr was the ticket. 100% no wavering, halo lr is the ticket. Trijicon level performance, 5 year warranty, CS seems to be fast and responsive to customer input and it's priced right. Soooo I call up a local dealer I've done business with for years, he orders one and I twiddle my thumbs and wait.
A few weeks go by and I wonder into my dealers place just to bs and he goes hey check this out and hands me a halo 25. We walk outside and start looking at stuff and it's pretty impressive. We live in roughly the same area and he informs me he is running a 25 and loves it. We go back inside and I'm poking around and I find a lwrc razorback 6.8 gen1. It's used, but clean and I get to thinking...shit I bet i can get out the door with this rifle and that 25 for the cost of the lr. And that is how I wound up with the 25. I've been doing business with my dealer for 10 years or so and I trust the guy, we shake hands and he says if your disappointed in it just bring it back and we'll work it out. Cool deal off I go.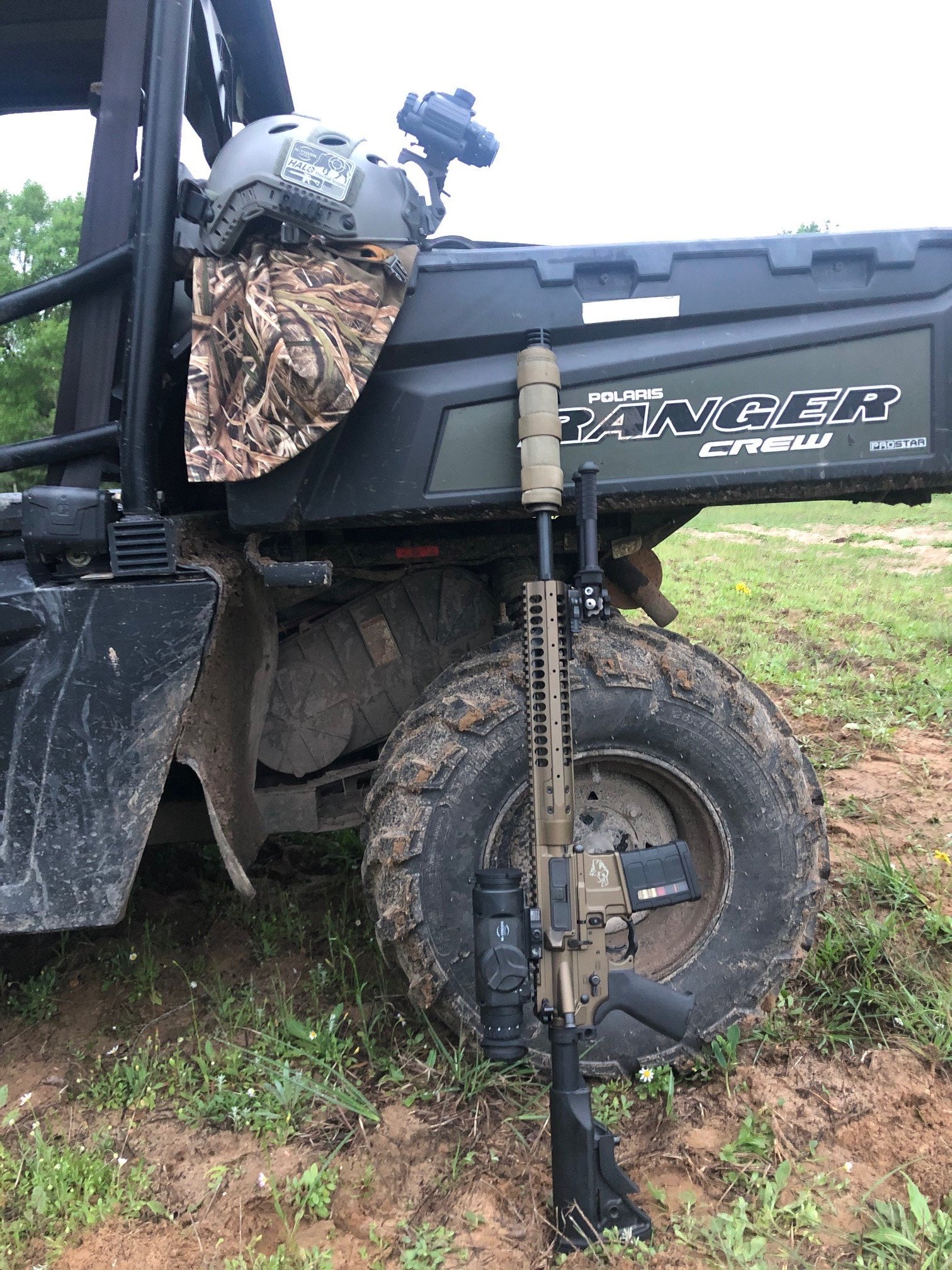 Review: At this point I've had it about a month so here are my thoughts to far.
-The box, packaging ect are all pretty top notch. Especially the nvision challenge coin, that shit is gonna come in handy when I have to trade it off to operators after we insert into some war zone. The instructions are nice and laminated, good deal can't eat or loose them. My one gripe with the instructions is that the instructions to zero the optic don't spell out how to use the manual nuc to do a one shot zero. Youtube fixed this, but I feel like they could have made more effort to explain the process. Also included in the box was one set of batteries, cleaning cloth, eye cup thingy and a usb to nvision cord for dvr or powerpack.
-The mount is america defense and so far has returned to zero really well. No complaints here concerning the mount.
-Battery life has been good, I don't see myself running an external power pack at this point. The battery holder seems rugged and the threads are fine, but no fine enough to cross thread. I hunt by setting up on top of a levee or hill, spotting pigs and then walking to them with a pvs 14. In a typical night I hunt sun down to 1-2am, I would say the unit is on 60-70% of the time. A set of batteries last me 2.5 nights of hunting. Not the most scientific way to measure this, but that's what I have so far. If i can remember I'll try and set a timer on my phone, but that probably wont happen.
-Reticles are good and you get several choices. I like the fact that the reticle changes color when it hits a hot target and that you can adjust the sensitivity of this feature. It seems to make shooting runners easier. It holds four different weapon zeros and swapping between guns hasn't caused loss of zero from profile to profile.
-Optical performance is great, but it's not a LR. I have places I can look at cows from 1500 yards, with the 25mm its like yep some stuff is over there, that being said I'm not sure the LR would make out cows that far out either. Inside of 600 or so I can look at cows and go yep...thems cown, hmmm are those little things to the right pigs or calfs? Oh wait that pig is nursing that cow, guess that makes it a calf. About 350 you get clear I'd on that's pigs to the right of those cows. NOW this is still the pretty decent part of Texas weather, as it gets more humid I'm sure performance will degrade some, but we'll just have to check that out in a few months. I have had it out in a pretty decent rain before and it didn't seem to degrade the image too much. Smaller targets like skunk, raccoons, armadillos ect can be detected wayyyyyy out there, but you need to be around 150-175 to id them.
Side tangent, I'm ranging stuff at night by finding it in the thermal, looking through my PVS14, walking the pulsing dot from my laser range finder onto the target, then looking into the laser range finder to get the distance. It's white trash wilcox raptar.
-Durability. Ya I know what your thinking, durability how can you test that in a month? Welllll I had just finished laying into my first sounder with it day after I bought it and I was pretty stoked. It was a text book, spot them from 5-600 yards, drive the ranger to within 300 yards under pvs14, stalk to within 60 yards and light them up. I mean just an awesome text book, wished it went like this every time run. I had 5 down solo and was walking to check on the last one and I fell HARD onto the rifle and optic. I knew for sure it was going to be snapped off of its mount, looked down and it was in one piece, still turned on. I looked it over really hard at the house, nada, little wear on the finish. I took a micro fiber town and cleaned all the dirt and dust off, other than that and loosing the eye cup somewhere were good to go.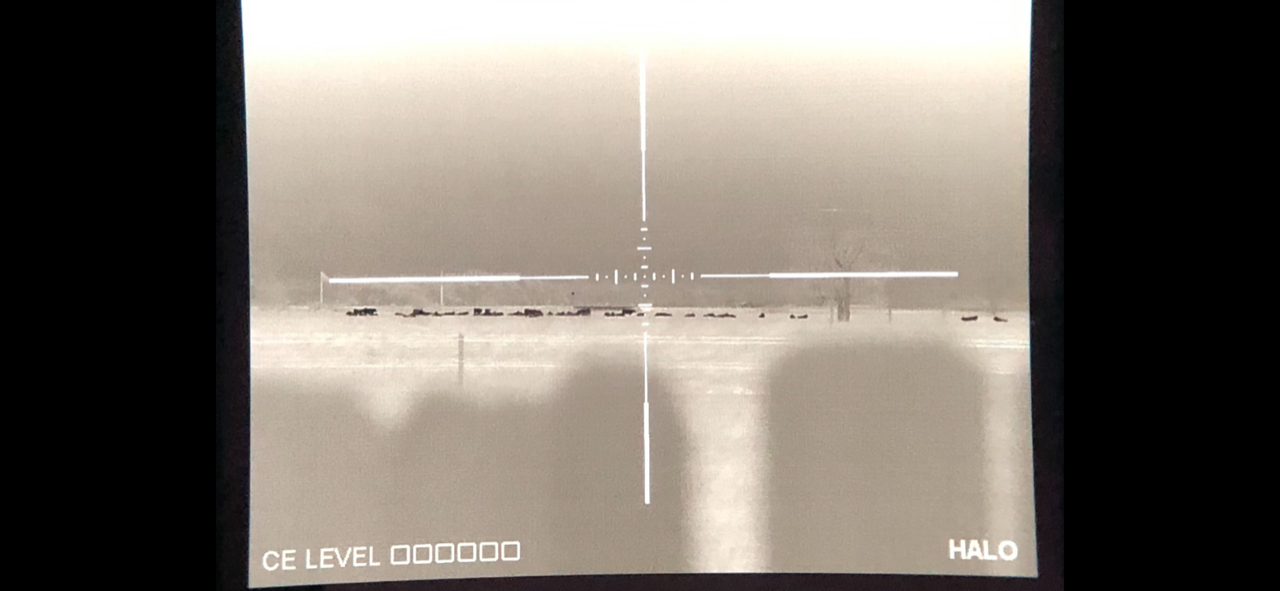 Zoomed all the way out, pic taken with an iphone. Cows on the left are at around 500, right side cows are further out, bridge in the back is right at 1033. Hard to explain, but it's clearer in person.
Overall I'm happy with the optical performance, this thing SHINES at shooting pigs from 20 to 200 yards. When the wind is right I can get to around 50 yards before I light them up and it's a bad day to be a pig. I hunt on foot in alot of river bottoms and wooded area between pastures and it really excels at operating in a cluttered environment. If I was out west coyote hunting I think I'd opt for the LR, but for my use jacking with pigs its pretty damn awesome. The five year warranty and cost are what really pushed me to the 25mm, I'll try and update as I keep rolling along and the conditions in Texas get more humid.