Smile and Dial
Supporter
Full Member
Minuteman
Supporter+
SPEED DROP
for the win!!!
This weekend I shot my first NRL Hunter match in Decorah Iowa. It was my first 'Find-Range-Engage' type of match. I ran
speed drop
the entire match and it was the best decision I could have made.
Gear
I shot this match in the factory class and decided to shoot a rifle that 90% of American hunters would go buy. (cheap!) No fancy barrel, action, Stock, scope or ammunition.
Rifle - Ruger American 6.5 Creedmoor - Added a muzzle break.
Scope - Vortex Strike Eagle 2-25x56 in a Spur mount (not a cheap mount but it was all I had that would fit)
Ammunition - Hornady Match 140ELDs (factory)
Bipod - Ckye Pod (I cheated and used an expensive bipod here)
Support bag - Mini sticky game changer with mix of git lite and sand
Tripod - Vortex Radian
Binos - Furry 5000 AB (i said a cheap rifle, not binos)
While preparing for this match I have heard stories of people timing out a lot and not being able to find targets or once they do find them they don't have time to range them, get data and then shoot them. I tried to take all of the intermediate steps out of the process from the time you find the target until you shoot the target. Running the speed drop did this the best. I only timed out on 1 or 2 of the 17 stages and those were from not finding the targets, rather than the intermediate steps taking too long.
SPEED DROP
I chronoed my rifle and ammo at 2650fpd, 140 Hornady Match 6.5 creed. Plugged that into my Hornady 4Dof app that was set up with thier bullet info and shot my dope out to 720 yards. 4Dof lined up perfectly and I didn't have to change or true the Velocity or BC. I was pretty surprised because I usually have to tweak something to get it right.
I plugged the drop data into my google sheet (
Link
) and it calculated a prime speed drop factor of 1.8. I decided to use 1.7 to have a 1/10 error in the middle of the range and then I stretched the near and far extremes to be 0.2 error. I had a speed drop factor of 1.7 and it works from 225yards out to 775yards. Its the perfect range for a match like the hunter series where targets are usually inside 800 yards.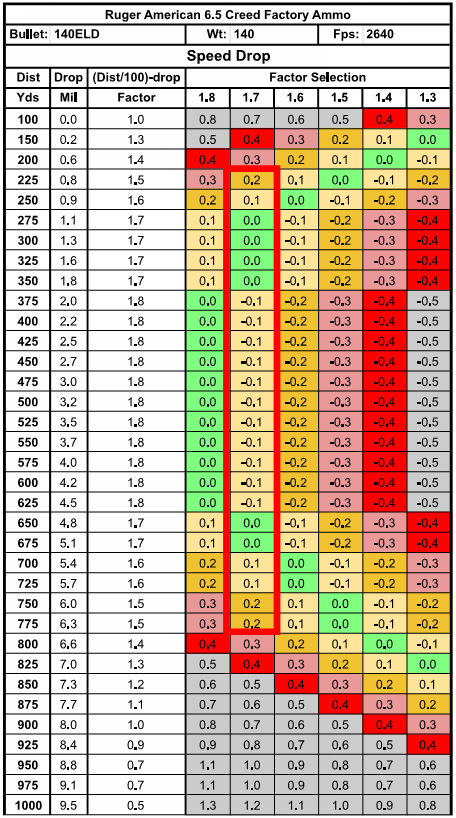 Scope Set to Speed Drop
To set my gear up I decided to dial the distances. I zeroed my rifle at 100 yards and zeroed my turret. Then I took the turret off and re-set it to 1.7 mils, my speed drop factor. Now, when my scope is set to 1.7 mils is my 100yard zero. This made it so my 400 yard data is 4mils. 520 yard data is 5.2 mils and 750 yard data is 7.5 mils. See the pattern here? The yardage is the dope I had to put on the scope. Doing this I wouldn't have to lookup data on my arm board.
This is the idea but for my gun its 1.7mils rather than the 2.5 shown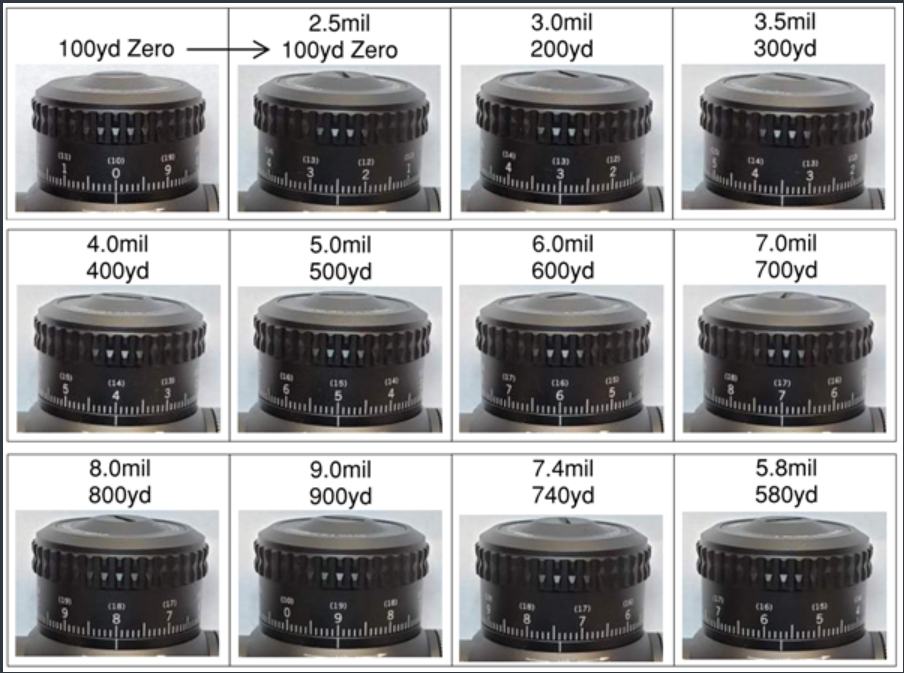 Arm Board Data
I retyped my arm board data to add 1.7 mils to each yardage. See the table below - 100yards = 1.7 mils. Hence the adding of 1.7 to everything. This way if I had a target at 1100 Yards I could still look it up in the armboard and dial what ever is says. 1100yards --> dial 12.9mils (Bang!)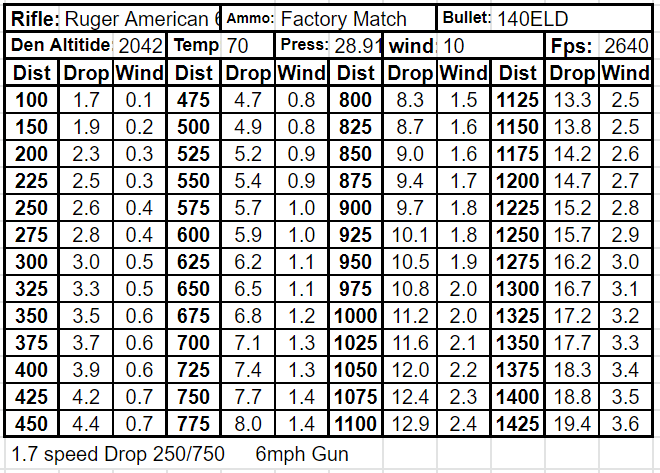 Using The speed drop in the match
IT WAS F'n AWESOME!! When on a stage all I had to do was range the target, write the distance down, then dial the scope. I didn't have to wait for the ballistics in the furry 5k to work, I didn't have to look up data, I didn't have to remember random numbers to dial too because the distance was right on my arm bar. 422yds - 4.2mils (BANG!) or 567yards 5.7mils (BANG!). This was the easiest, fastest, simplest way to shoot this match and I will 100% use it again. The entire match I had to look up data twice and that was because the targets were inside 225 yards. Really I could have held top of target and sent it but, at the top of my arm board I had written out [100-1.7--150-1.9--200-2.3--225-2.5] for the short range targets. After 250yards I knew the speed drop would work and all the way out to 775. For targets farther than 775yds I knew I would have to look at my arm bar and see what is says. I never had to shoot a target further then 775 so this was perfect. Speed Drop cut so much time out of the process, it was awesome!!
It was SO good that after the first day a couple of my buddies said "I need to get Faster" so I showed them what I was doing, we worked thier speed drop factors and distances out manually and then set thier rifles up. They both reported they timed out much less the 2nd day and it was the "Cat's Meow" to run that system. Proof to me that everyone and anyone can run this system.
A Bonus
Once your dial is set to your speed drop factor (1.7 for me) I can dial my scope back to zero and now my reticle becomes a BDC --> 3mil line = 300yrad 5mil = 500yard 7mil = 700yards. This works for the speed drop range. At any time I could have dialed down to 0 and held over the target distance.
Finish
For the rifle and gear used, as well as this bring my first match of the style, I was happy with my finish. 26th of 80 in the individuals. I had a couple hickups and my wooble from the tripod with a bag and 10lb gun was an issue but we managed to get things done. Some of the fellow factory shooters were bragging about thier higher scores and I said "lets divide our rifle cost by our points and then see who wins". It would have been me. I am pretty sure if I doubled the cost of my rifle it still cost less than all the rifles there, and that was the point of me shooting the match this way. My best excuse for my finish in this match is the stock of the Ruger American. If I loaded the bipod and flex in the stock forend would move my groups 1.5 inches high at 100yards. That's about a half mil. I missed a lot of targets high because of this. In the end, I'd still shoot this match with this rifle, but maybe a better stock.
If you are shooting this kind of match. or don't want to memorize your dope TRY THIS OUT!! Its worth the work to understand it.