Tagging a few folks who expressed some initial interest in the other thread:
@Dustyplyr
@Tyler Kemp
@kthomas
@samb300
@Dthomas3523
If you are reading this, chances are you own a J Allen chassis and have found that the existing OG grip is a bit too far from the trigger shoe and perhaps angles your shooting hand downward just a little so that your trigger pull can tend to be up and to the back a bit rather than straight back.
In this thread, there was some interest expressed in an aftermarket grip skin (that is, one that replaces the pliable original grip cover) with a more vertical front strap.
https://www.snipershide.com/shooting/threads/vertical-grip-modification-to-j-allen.6937604/
With a bit of initial confusion, it seemed like we needed to shelve this idea as MDT (who bought J Allen's design/etc) expressed that they indeed will be offering a small variety of grip configurations when they reissue their version of this chassis.
The confusion was that it turned out on further discussion that MDT's grips will not be backward compatible to the original J Allen sold chassis. That is, MDT is changing the design in some areas for better producibility and cost control. If you read through the post linked above, you can see where
@MDT_Josh
explains why they are making a change and it's very understandable.
So, back to an aftermarket grip skin and I have been in contact with
@Tyler Kemp
, owner of MK Machining, who expressed interest in doing a 3d printed version with a more vertical front strap that will be compatible with OG J Allen chassis. Tyler feels that this can be easily done (well, easily if you have this type of expertise) in printed nylon of a type (11, I think he said) that will be strong enough to support captive fasteners for bolting it onto the chassis but still be pliable enough to get it over the underlying aluminum grip and sort of snap into place.
I have an empty chassis that I have agreed to send to Tyler for scanning and prototyping.
Please don't laugh at my poor attempt at art work (I can't even draw stick men haha), but this is kind of the idea
Current grip configuration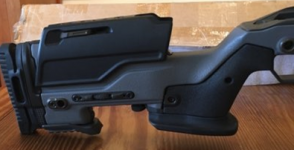 Rough idea of what we are talking about…very rough haha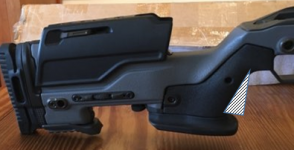 There is, of course, going to be some non-recurring design costs and before we launch into this, we felt that it would be prudent to determine a rough level of interest and solicit owner's views on the configuration that they would prefer.
So, if you have any interest, please reply below and answer the following few questions. Of course, we are very open to any other views and constructive suggestions that you wish to toss into the hat.
Price notwithstanding, would you like to buy something like this and if so, how many?
Would you be willing to pay somewhere in the neighborhood of $75-$100 for it?

This is NOT a quoted price and is just a VERY rough guesstimate for the sole purpose of gauging approximate interest.

What configuration would you like:

Completely vertical front strap
Something a bit less that fully vertical
Something that extends forward even more than just going straight down vertically from the top of the existing grip skin?
Feel free to take the OG grip pic above and mod it to show what you would like…I did it in PowerPoint but anything will do like Paint or even hand drawn

Palm swell –

Are you happy with the existing palm swell?
If not, would you want more or less swell?

Texture – this will NOT be rubberized material like the OG skin, but it can be textured

Do you prefer a smooth finish
Do you prefer a bit of a pebbled finish
Any other finish/texture preference
I'm hoping that we can make this a go. I have tried to use some other products to build up the front of the grip with workable but not optimal results. For those of us who can't palm a basketball, I think this will really help improve the ergonomics of the chassis.