Urban Cowboy
Full Member
Minuteman
Dec 10, 2018
10,852
36,309
He took down one lowlife scumbag, before another one ambushed him from across the street...
LAFAYETTE, INDIANA. SEPTEMBER 1, 2020
37 year old Joshua Ungersma, a new father with an infant son, was working as a Dominos pizza deliveryman when 17 year old Jaelynn Billups placed a bogus order over the phone to lure Mr. Ungersma to an abandoned house with the intent to rob him. When Mr. Ungersma arrived, Billup's 19 year old boyfriend Alberto Vanmeter pulled a handgun on him. 37 year old Ungersma was able to draw his own licensed .38 caliber revolver and fired one shot, killing Vanmeter. A neighbor heard the commotion and appeared at the scene just in time to hear Mr. Ungersma tell him that he had shot someone trying to rob him. That was when 17 year old Jaelynn Billups, who had been waiting across the street, fired several rounds from a 9mm pistol, fatally striking Mr. Ungersma from the back. Jaelynn Billups was captured shortly afterward and is now facing STIFF charges. In addition to the capital murder charge for the killing of Mr. Ungersma, she is also facing a second homicide charge for setting up the crime which led to her boyfriend Alberto Vanmeter to be killed as well. These are just the speartips of a slew of weapons possession, kidnapping, robbery, and conspiracy charges. Mr. Ungersma leaves behind an infant son just several weeks old, and a grieving wife and parents.
New father working a second job as a deliveryman to support his family was able to take down one thug who robbed him at gunpoint before being ambushed and killed by the dead thug's accomplice.
Seventeen years old Jaelynn Billups, in addition to a capital homicide charge for the shooting death of Mr. Ungersma, is facing charges for her boyfriend and accomplice's death during the botched robbery and multiple other serious charges.
Jaelynn Billups, 17, tried to rob Joshua Ungersma, 37, while he delivered a pizza but shot him when he asked someone to call police in Lafayette, Indiana, witnesses alleged.
www.dailymail.co.uk
----------
A 17-year-old girl shot a new father dead after luring him to an abandoned house with a fake pizza order, according to court documents.
Jaelynn Billups tried to rob Joshua Ungersma, 37, while he was delivering the pizza but shot him when he asked someone to call police in Lafayette, Indiana, witnesses alleged.
Police found Mr Ungersma dead on North 16th Street on August 31 after there were reports of 'shots fired' at around 11.15pm.

They also found the body of Billups's boyfriend Alberto Vanmeter, 19, nearby with a Domino's pizza box, two drinks and cash laying on the ground beside him.
Mr Ungersma is believed to have shot Vanmeter in self-defence after the 19-year-old tried to rob him, after which Billups allegedly shot him at point blank range.

Witness Patrick Gibson claims Mr Ungesma was uninjured after the first shots were heard and told him Vanmeter had tried to rob him, reported the Lafayette Journal & Courier.

Mr Gibson said Billups then came from across the street and shot Mr Ungesma dead.

Another witness also alleged Mr Ungesma had asked someone to call police before Billups shot him.
Police said Billups was standing over one of the victims when they arrived and she had phoned the cops with the same phone she ordered the pizza on, reported WISHTV.

Police said Domino's Pizza delivery driver Mr Ungersma was found with 'a .38 S&W revolver in his pocket with the rounds fired'. He had a permit to carry the weapon.
Jaelynn Billups, 17, was charged with killing Joshua Ungersma causing Ungersma to kill Alberto Vanmeter, 19
When police ordered Billups to show her hands, she threw a 9mm handgun onto the sidewalk and was detained, reported WTHR.

A coroner determined Mr Ungersma died of multiple gunshot wounds while Vanmeter died of a single gunshot wound.
Jaelynn Billups, 17, was charged in Tippecanoe Superior Court 2 with killing Joshua Ungersma and is being held without bond.

In a second murder count, she was also charged with causing Mr Ungersma to kill Alberto Vanmeter, 19.
She was also charged with conspiracy to commit armed robbery, armed robbery, theft, pointing a firearm, and carrying a handgun without a license.

Billups told the judge during an initial hearing September 8 that her family was planning on hiring an attorney. Her trial date was set for February 23, 2021.
Mr Ungersma worked a second job at a Domino's store on Greenbush Street in Lafayette, which is donating 75 per cent of sales through Friday to his family.

The owners hope to raise around $15,000 for the Ungersma family to support his newborn baby.
Domino's store owner Jimmy Ruedlinger said: 'We want to be able to do whatever we can for the family.
'They're going through a lot right now, obviously, with the loss of their father, the husband, a son in the mom's case.
----------
GoFundMe page for Joshua Ungersma: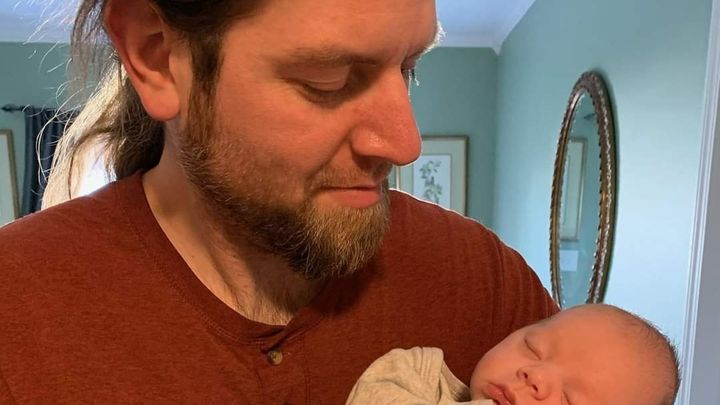 Joshua was such a great man, he saw the good and potential in everyone. With his passing being so tragi… Jamie Wilkins needs your support for Joshua Ungersma
www.gofundme.com
The next person who REEEEE's about "white privilege" I will SERIOUSLY have to struggle to keep myself from punching the motherfucker right in the mouth...
Last edited: