This quarantine has me digging through the safe trying to get guns figured out that I have had issues with. I built this LR-308 back in 2018 and its got some issues.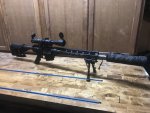 Specs:
DPMS LR-308 lower
DPMS BCG
DPMS Mags
DPMS Carbine Spring and Buffer
AR Stoner Upper Receiver
Rainer Arms 18" Ultra Match barrel
Rainer Arms .800 gas block
Now when I built this I did not have a suppressor but I was having these same issues when I first built it.
Issues:
1. Case necks are getting dinged from hitting the brass deflector and they are flying out around the 1 - 2 o'clock position.
2. Some times it seems like its short stroking and using friction pulling the next round out of the mag and then proceeds to smash the bolt through the side of the case. (Had this issue on my DPMS LR-243 and keeping it well lubed fixed it, doesnt seem to be working on this LR-308)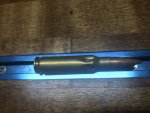 The first issue i beleive means that I need to put and adjustable gas block on it. Problem is Rainer used a .800 gas block on this barrel and they are the only ones that have gas blocks for them and they are all out of stock. There is only 1/8" material between the gas tube and the OD of the barrel. I have been thinking about drilling through the front of the gas block and put a set screw in there to restrict some of the gas. But I believe the biggest set screw I can put in there is a 4-40 screw which I don't believe would be big enough to cut the flow of gas off much. (I can't measure the port on the inside of the gas block, but it looks to be about 2x bigger than the hole in the barrel) I've also thought about getting a .750 adjustable gas block and either boring it out on the mill or lathe, but not sure if there is enough material for me to bore one out or not.